Get A Free Lawn Mowing Quotes In Coppell, TX By Gomow Lawn Care Service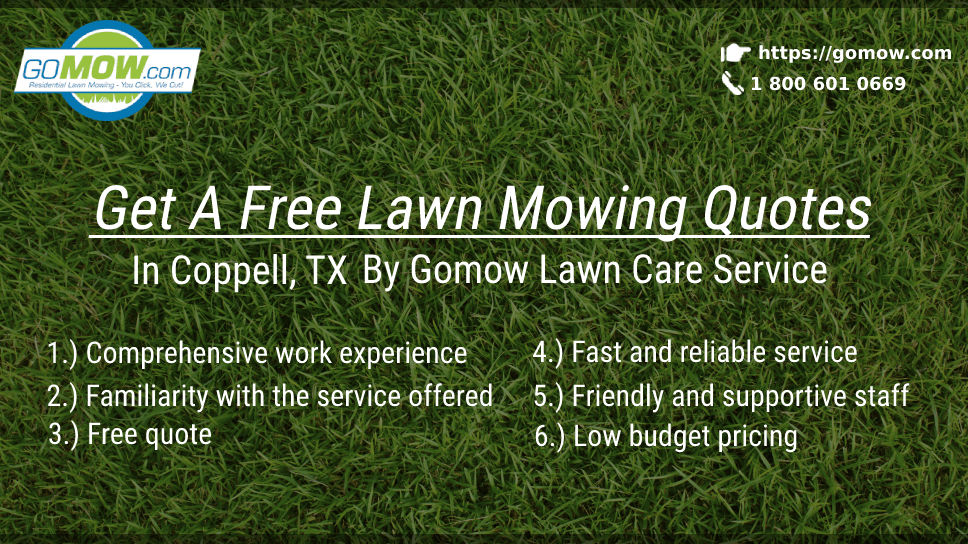 Before hiring a lawn care service in Coppell, Texas, there are certain factors that must be considered seriously. One of these factors concerns the availability of a free quote before getting started.
Not all lawn mowing services offer free quotes so feel free to look out for this when hiring.
In this post we have discussed the benefits of hiring a lawn mowing service that offers free lawn mowing quotes in Coppell, Texas.
In this regard, GoMow Lawn Care, Coppell, TX, is your number one lawn care and maintenance service committed specifically to Coppell home owners first.
Comprehensive work experience

GoMow Lawn Mowing, Coppell, TX is experienced in lawn care in the Coppell areas of Texas. If you need a lawn service that offers free lawn mowing quotes while delivering a robust work experience, GoMow Lawn Mowing, Coppell is your best bet.

Our service plans are designed to fit your budget or any size of lawn you may have on your property. We have worked with many home owners with great success.

Familiarity with the service offered

When you hire a lawn service that offers free quotes, in most cases, they're already accustomed to the services they offer. Expect a top quality from these lawn care companies because their having a quote system often means they're detailed in their approach.

Free quote

GoMow Lawn Mowing Service, Texas, offers a free quote to lawn owners who need to a get quote before getting started with their lawn care. We have made the booking process smooth and easy for your use eve if you're a new visitor.

On our website, lawn owners who need our services can easily book an appointment quickly or get a quote for what they need at the click of a few buttons online.

Getting a quote or booking a session with us is free so go ahead to get started.

Fast and reliable service

As with all services, reliability is important. Therefore, GoMow Lawn Mowing, Coppell, TX, provides a speedy and reliable customer-focused service. We understand that everyone is busy and have their lives and activities to focus on. When we manage your lawn in 2021 and beyond, be rest assured that our services will continue to be fast and reliable.

Our services are available for hire 5 days of the week excluding Saturday-Sundays. Your satisfaction in using our lawn maintenance service is a top priority always.

Friendly and supportive staff

GoMow Lawn Mowing, Coppell offers a friendly and supportive service aimed at giving your lawn the best treatment you could hope for. Our service delivery is reliable and you can count on our supportive staff to attend to your needs to satisfaction.

We are dedicated to delivering a stellar lawn care experience that will have you coming back for more. Eventually, we believe you'd become an advocate of our Coppell lawn maintenance service.

Low budget pricingm

Our pricing is designed to fit the needs of our customers. When you get a free quote, be rest assured that any amount shown will be budget friendly to fit your wallet. Small lawn yards are cheaper as expected but that doesn't mean large lawns are out of your reach. Simply use the quote calculator to get quotes that fits your pocket.

We charge based on the size of your lawn; to get an accurate quote of your mowing charge, please visit www.gomow.com to get a quote today.
Conclusion
Hiring a lawn care services doesn't have to be a penny-pinching battle, GoMow lawn care services in Coppell, TX has everything needed to keep your lawn green, healthy and beautiful.
Visit us today at https://gomow.com/service-areas/coppell/ to get a FREE quote for your lawn.
Related Articles
10 Essential Things You Need To Do To Your Lawn Right Now In Coppell, TX
How Do You Keep Your Lawn In Good Condition? 6 Ideas You Should Know About Lawn Care In Coppell, TX