Affordable Lawn Service In Dallas, Texas From GoMow Lawn Care Service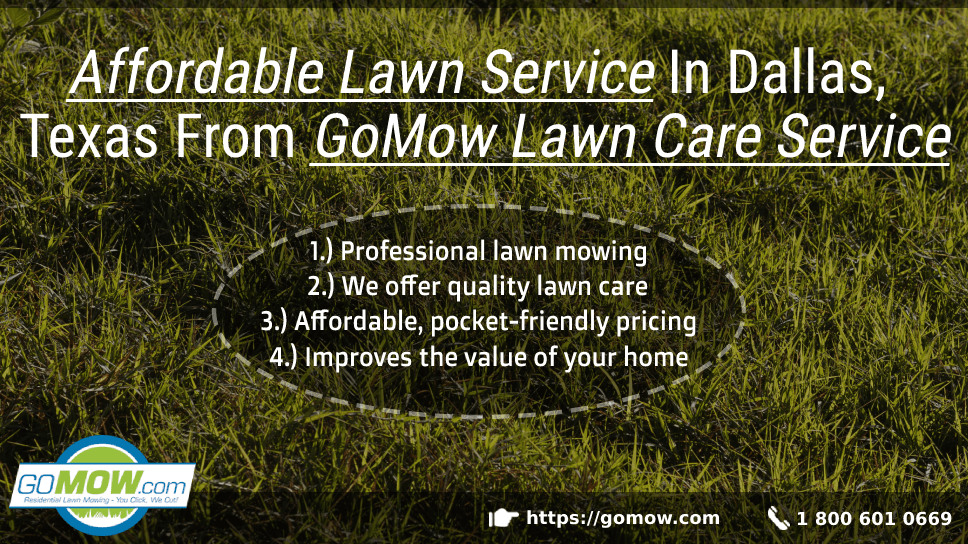 As much as lawn services are necessary for all home owners who have lawns, hiring a lawn service is still the better choice rather than doing it yourself. However, finding an affordable lawn service isn't as easy as expected. Most times when they're affordable, the services might not be worth it.
GoMow lawn service, Dallas offers an affordable lawn mowing service designed to deliver your lawn care needs.
GoMow lawn service is professional, friendly and wholesomely supportive to clients in the Dallas area.
In this post, we have discussed what to look out for when planning to hire a lawn mowing service in Dallas, Texas. Read on:
Professional lawn mowing

Just before you hire a lawn service in Dallas, check around for feedback on the type of lawn mowing service they deliver. This is a core service that GoMow Lawn Mowing, Dallas is known for. Our lawn mowing company is currently one of the best in Dallas, Texas. We understand all aspects of lawn mowing that will keep your lawn in good shape without causing any damages to your lawn.

GoMow Lawn Mowing, Dallas offers an affordable lawn mowing service that every home owner who has a lawn can benefit from when they hire us. To get in touch with us, visit our page at www.gomow.com to get a free quote today.

We offer quality lawn care

One of the merits of hiring GoMow lawn mowing service in Dallas is the fact that your lawn will be taken care of by skilled people who have experience in lawn care. This will show in the look of your lawn after we take care of it. As summer approaches, you'd notice that most lawn owners will need more attention on their lawns. The really beautiful lawns are those benefiting from quality lawn care while the case is different for lawns experiencing poor lawn maintenance.

A lawn mowing service like GoMow Lawn Mowing, Dallas, you're guaranteed to see the results you need. To give you full confidence in our service, we recommend that you ask around for feedback about our lawn care services in the past from different sources.

Affordable, pocket-friendly pricing

Pricing is a major factor to check when hiring a lawn mowing service in Dallas. Though the focus should be on quality lawn care, it doesn't hurt to save good money by hiring an affordable lawn mowing service. Mistakes can happen when you do your lawn care yourself so it's best to hire and hire cheaply too.

GoMow Lawn Mowing, Dallas, TX delivers affordable weekly lawn care service focused at providing value at an affordable cost. We are your best shot for affordable lawn mowing to keep your lawn yard healthy and beautiful.

Improves the value of your home

GoMow Lawn Mowing, Dallas offers a lawn care service that's designed to improve your lawn. A home property with a well-maintained lawn yard will command more fees in the real estate marketplace. If you need a good lawn care service in Dallas, Texas, the best way to go about it is to compare lawn mowing services that offer good work at an affordable price.

GoMow Lawn Mowing, Dallas, TX will get you started with professional lawn mowing that's designed to improve the look of your home lawn yard fast!

For home owners looking to sell their property in future, we recommend giving your lawn the best look to improve its perceived value and attract more pricing.

To get started with GoMow Lawn Mowing, Dallas, please visit https://gomow.com/service-areas/dallas/