How Do You Keep Your Lawn In Good Condition? 6 Ideas You Should Know About Lawn Care In Coppell, TX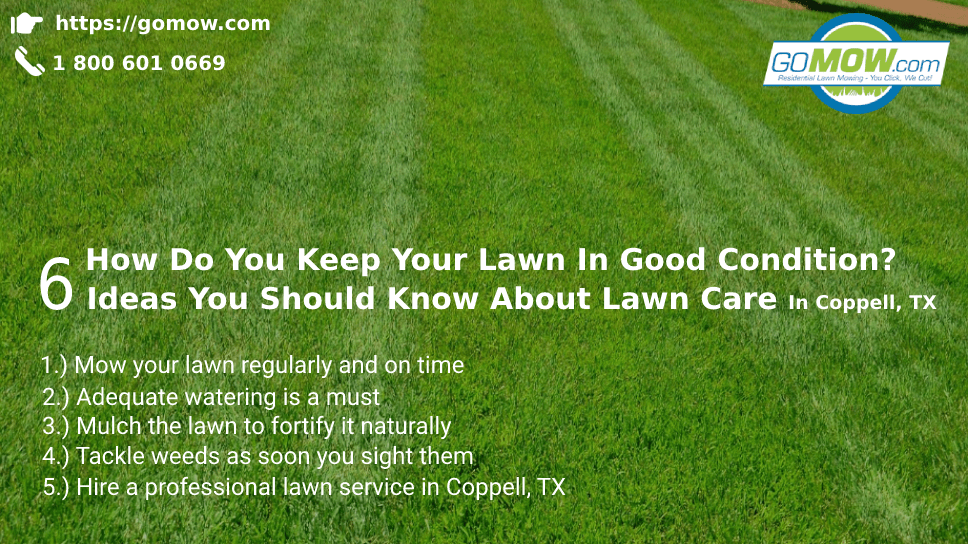 As a home owner whose property has a lawn, it's important to keep this part of your property in good condition. A beautiful lawn will enhance the look and value of your home especially if you're someone that plans to sell them in future. The question then is, how do you keep your lawn in good condition as a lawn owner without spending a ton of money without results?
In this post, we have discussed 6 ideas you should know about Lawn care in Coppell, Texas.
Mow your lawn regularly and on time

Regular mowing is one lawn care idea that must be done at least once a week if your lawn must be in good condition. Some lawns need more mowing than others smiley because they grow faster. Feel free to hire a Coppell lawn service that offers affordable and professional lawn mowing to take care of your business.

GoMow Lawn Mowing, Coppell offers one of the best lawn mowing services you can hire for your lawn care. After hiring your lawn mowing service, ensure you choose a plan that delivers what you need.

Adequate watering is a must

Just like lawn mowing, adequate watering is a must for grasses. Plants are living things and like humans and animals, they need water to live and grow optimally. Watering should be done twice a week during summer when the sun is hotter than ever.

The Winter season doesn't require much watering since the weather is usually wet and cold. Consider your current weather condition and calibrate the watering to match it. Sprinklers can be installed on the lawn to automate the whole watering process. Alternatively, your chosen lawn care service in Coppell, Texas can also water your lawn to keep it in good health.

Mulch the lawn to fortify it naturally

Mulching is a process of adding organic waste back into the soil to increase is nutrient concentration. A simple way to mulch your lawn is to leave the cut grass on the lawn rather than pack them away. The cut grasses will eventually decay and breakdown completely as organic fertilizers for your grass.

If your lawn service in Coppell uses a mulch-mower, then you're in good hands as a mulch mower will not only cut the lawn it will also spray out the mulched waste out on your lawn.

Tackle weeds as soon you sight them

Eradicate weeds before they even sprout on your lawn. To do this effectively, you'll need to use pre-emergent weed killers to take them out before they are put in roots. Manual removal of weeds is also recommended to take out weeds physically.

Your Coppell lawn mowing service can handle weeding on your lawn during your weekly mowing schedules so let them know if your lawn needs it. Weeds will usually compete with your grass for every resource like water, nutrients and space. A weed-free lawn is usually a beautiful lawn so do everything you can to keep your lawn free from weeds.

Hire a professional lawn service in Coppell, TX

Finally, don't hesitate to hire a professional lawn care service in Coppell, TX to care for your lawn. As an idea and a decision, it will be one of the best ones you'd ever come up with. Lawn service in Coppell, TX has more resources, experience and knowledge on the best way to care and maintain your lawn. Don't hesitate on this decision as it will favor your lawn the most.
To get started, head on to https://gomow.com/ for a free quote today!
Related Articles
10 Essential Things You Need To Do To Your Lawn Right Now In Coppell, TX