10 Reasons Why You Should Hire A Professional Lawn Care Company This Spring In Converse, TX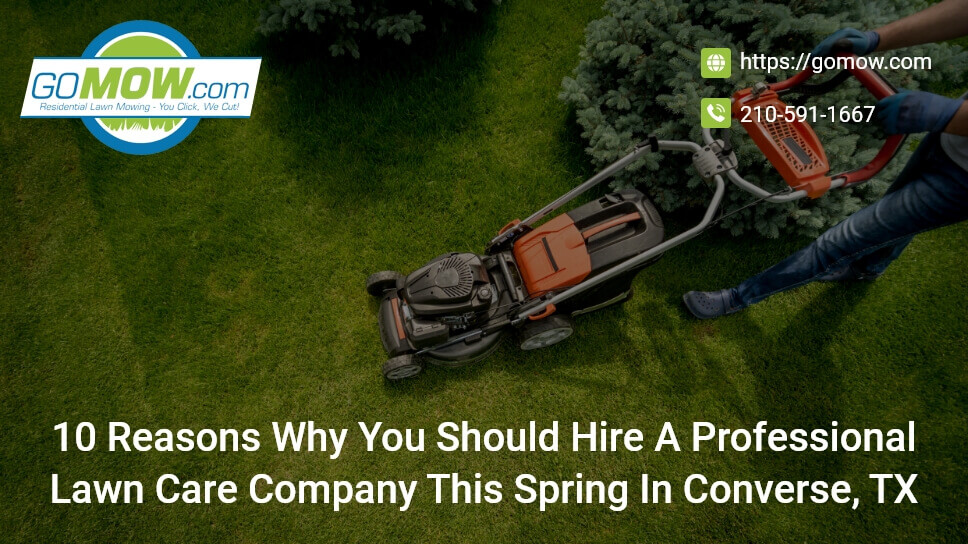 Many American homes have lawns, which is a testament to the theory that vegetation improves the feel and view of the home front. As idealistic as this is, maintaining a lawn is a different ball game and requires a bit of effort to make it work. While a small percentage of homeowners prefer to do their lawn care themselves, the larger population of Americans prefers to hire a professional lawn care company for it.
In our experience, hiring a professional lawn care company comes with many benefits and should be the preferred way of providing care for lawns. In this post, we have discussed why hiring a professional lawn care company this spring in Converse, TX is beneficial to you.
Reduces cost
When you hire a Converse lawn care service, for instance, you save yourself the cost of acquiring or hiring lawn care tools, products and equipment. These items are not cheap and you really shouldn't be bothering yourself with purchasing them, talk more of the investment needed to maintain them too.
Saves you money
Unless you're a veteran lawn care expert, taking care of your own lawn is tasking. It's even worse when it's a large yard. Doing it yourself might lead to errors you could have avoided if you hired a lawn service in Converse. When you hire a professional lawn care company, you stand a chance of paying a comprehensive fee which covers everything you need at a go. By following this plan, you save money in the long run.
Expertise and experience
Converse lawn care offers professional lawn mowing provided by trained and experienced individuals who know what it takes to care for a lawn yard. A lawn service in Converse will be in a better position to care for a yard compared to an unseasoned homeowner.
Paying for experience and expertise will benefit your lawn long term. Fortunately, many lawn services in Converse have friendly pricing and affordable service plans that fit most customer budgets.
Regular care and maintenance
For lawn yards to look great, they require regular care and maintenance. Consistent lawn care is difficult when you're practicing DIY lawn care. Most people have busy schedules and find it hard to combine the arduous task of lawn care with their daily life activities.
Hire experts whose job it is to care for your lawn maintenance so that your lawn can get the best treatment. If you need lawn mowing in Converse, try GoMow Lawn Care Service to enjoy a delightful lawn mowing experience.
Availability of equipment
Lawn services by the nature of their work have an array of equipment needed to care for and maintain lawns adequately. As a homeowner, you may have a grass mower, but buying leaf blowers, edging equipment, aeration machines, fertilizer applicators, etc will cost you good money.
Why buy all this equipment when you can simply hire lawn maintenance in Converse? If you're not planning to start a lawn care company, it's best not to spend money buying lawn care equipment. You can own a lawn mower and some other essentials, however.
Topographical knowledge
If you're using lawn care in Converse, or any location you're resident in, you stand to get more value. The reason is simple, you'll be dealing with professionals who're more knowledgeable about your region and know what works best in it. We recommend hiring a professional lawn care service locally for the best results.
Reduced physical involvement
Maintaining your lawn requires significant effort and consumes a considerable amount of time each day. This can be particularly challenging for older individuals who are at risk of falls or injuries. Furthermore, certain health conditions may prevent you from engaging in outdoor work, or you may simply lack the desire to do so.
In such cases, enlisting the assistance of a professional lawn care service would prove advantageous to you. If you're thinking of caring for your lawn by yourself, you're going to get worn out in the end. Simply hire a lawn care service in Converse, sit back, and enjoy the result.
Time-saving
Balancing a full-time job, family responsibilities, and errands can leave you with little desire to tend to your yard. Not only is the process itself time-consuming, but it can also consume precious weekends, with uncertain outcomes.
Fortunately, you can hand over the responsibility of fertilizing, seeding, and other crucial tasks to a professional lawn care service company. By doing so, you'll gain valuable free time to engage in activities you truly enjoy.
Improves the look and value of your home
Beautiful lawns add what we call 'curb appeal' to homes where they're situated. A piece of property with a gorgeous, lush lawn yard will always command more admiration and perceived value than one without it. This isn't rocket science and is actually proven. If you decide to sell your home, a well-kept lawn will greatly increase your property's curb appeal and appeal to potential buyers.
Enhances your environment
Some lawn care services in Converse offer green services designed to lessen your carbon footprint and help the environment. To maintain a healthy lawn while avoiding harm to the ecosystem, these lawn services in Converse follow sustainable practices, use organic fertilizers, natural weed control strategies, and water-saving measures.
When you use the services of such a lawn care service, you inadvertently help in creating an environmentally-friendly future in your own way.
"For home owners who plan to sell their home in the future, work on increasing the curb appeal of your home and you will be able to get better value for it."
If you'd love to hire a professional lawn care company, try GoMow Lawn Care Service. You can get in touch with us to schedule a consultation today so you get to experience our Converse lawn care.
Get your free quote here to experience the best lawn experience in this part of the Lone Star
State: www.gomow.com/service-areas/converse.
Related Articles
5 BENEFITS OF PROFESSIONAL LAWN CARE SERVICES – GOMOW
PROS AND CONS: DIY LAWN CARE VS PROFESSIONAL LAWN CARE IN TEXAS