Pros and Cons: DIY lawn care Vs professional lawn care in Texas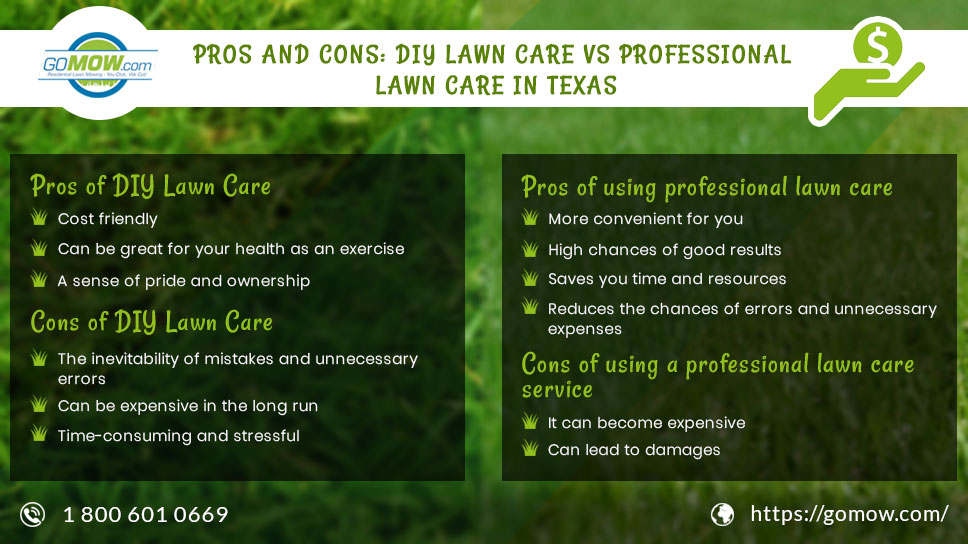 When it comes to lawn care for homeowners, there are two options to consider. You could either go for DIY lawn care or hire professional lawn care experts to handle your lawn.
In truth, both options have their advantages as well as disadvantages so absolute consideration should be taken before choosing.
In this post, we have discussed these two alternatives listing out their pros and cons to make it easy for homeowners to make an informed decision for their lawn care.
Pros of DIY Lawn Care
1.) Cost friendly
If you're someone who's wary of spending too much on lawn care then the DIY lawn care option is worthy of consideration.
Of course, care must be taken to follow only organic lawn care practices. Anything else might lead to unpalatable consequences for your lawn in the future.
2.) Can be great for your health as an exercise
Health-wise, doing your own lawn could be a great way to exercise and keep fit. Excluding cost, this is a very good reason to consider DIY lawn care.
3.) A sense of pride and ownership
Some homeowners enjoy a sense of pride and ownership from doing their lawn care themselves. If you're one of such people, then a DIY lawn care approach might just be best for you.
Cons of DIY Lawn Care
1.) The inevitability of mistakes and unnecessary errors
If you're inexperienced in best organic lawn care practices, it's almost unavoidable to make mistakes while following a DIY routine.
To save you and your lawn from costly mistakes, you could easily use an affordable lawn service near me to handle your lawn care.
2.) Can be expensive in the long run
Following a DIY lawn care routine can be expensive in the long run if you're doing it wrong. Consistent damages can become costly over time.
Using residential lawn mowing services in Texas will most likely help you avoid this challenge
3.) Time-consuming and stressful
Lawn care and maintenance require investing considerable amounts of time on the lawn. Busy lawn owners will most likely find this difficult.
In addition, it can be quite tedious to maintain your DIY lawn care schedule consistently. This disadvantage alone is a major turnoff when considering DIY lawn care.
On the other hand, hiring professional lawn care also has its pros and cons which are as follows:
Pros of using professional lawn care
1.) More convenient for you
Hiring a residential lawn care service in Texas means more ease and convenience for you as a lawn owner. Since you're hiring experts, you won't need to worry about the details of caring for your lawn, just the beautiful results.
2.) High chances of good results
The more fact that you're hiring lawn care companies nearby means your lawn has a greater chance of yielding good results. These services are experienced, have the personnel, training, and equipment to give your lawn the best care possible.
3.) Saves you time and resources
Most residential lawn mowing services in Texas are skilled and experienced in this activity. If you're operating a DIY lawn care routine, it's almost inevitable to make mistakes which can prove costly.
Generally, organic lawn care products are preferred to any other type no matter how good they are.
4.) Reduces the chances of errors and unnecessary expenses
Hiring a GoMow lawn care service means you'll be calling in the experts who really know their game to do the work for you.
This means fewer chances of errors and unnecessary expenses on your part. It's important to ensure that only organic lawn care steps are followed while at it.
Cons of using a professional lawn care service
1.) It can become expensive
Using the services of lawn care providers in Texas and indeed anywhere else can become expensive.
Homeowners on a tight budget might find it costly to spend money on certain premium lawn care services.
The best bet while hiring lawn mowing services is either to go for affordable lawn care or apply DIY lawn care. In either case, you get to spend less and save some money while keeping your lawn beautiful and healthy.
2.) Can lead to damages.
Some affordable lawn care providers offer poor quality services which can damage your lawn yard eventually. A careless lawn care service might implement strategies that are not environmental friendly like using chemical products instead of following organic lawn care.
As you may have noticed, the advantages of having professional lawn care outweigh its disadvantages and with good reasons.
While the final decision lies on the lawn owner, we believe using a professional residential lawn care provider in Texas is always the best for your lawn.
You may get in touch with us at GoMow Lawn Mowing Services, Texas to get started this new year!