Secrets To A Successful Lawn In Farmers Branch, TX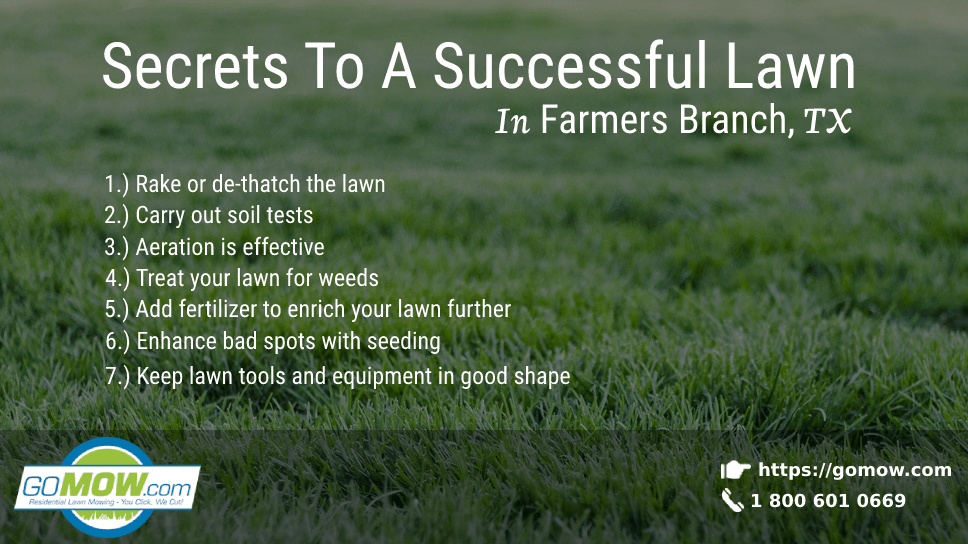 With the cold season imminent, it's imperative to give your lawn adequate care to keep it in good shape or form. To have the best-looking lawn this winter, there are steps to take right now to improve your lawn and have it be in optimum health.
In this post, we have outlined the secrets to a successful lawn in the Farmers Branch. Whether you are using lawn care in Farmers Branch like GoMow Lawn Mowing, Farmers Branch, TX, or implementing DIY lawn care, these secrets will ensure your lawn yard is a success this winter.
Rake or de-thatch the lawn

Raking is an activity that helps to remove dead leaves, grass, debris, and other organic matter from the lawn. When done right, raking is very beneficial to the health of your lawn. It also helps to de-thatch the lawn so it doesn't get overwhelmed with thatch. The build-up of thatch leads to disease, reduction of nutrients, air, and water movement. Raking the lawn helps to eliminate thatch effectively by removing debris, contaminants and creating space for your grass to thrive.

Carry out soil tests

Performing soil tests will leave important information that will help you care better for your lawn. Typically, good soil should be slightly acidic or better yet, neither acidic nor alkaline. Test kits bought at local lawn care stores can be used to carry out soil tests. For advanced help, consult a lawn service in Farmer's Branch for it.

Soil tests will let you know your standing with regards to the state of your lawn and what needs to be done.

Aeration is effective

Just like raking the lawn, carrying out soil tests, aeration helps homeowners to have a successful lawn due to the very nature of what it does. Aeration helps break up hardened or compacted soil into loose soil which is great for the lawn. For best results, aeration should be done only when the soil has been confirmed to be compacted.

Soils with a lot of foot traffic eventually become compacted. When this is the case, using an aerator is the way to go to keep the soil loose. Small lawns can be aerated by using a pitchfork while large lawns will require the use of a mechanical aerator.

To get started with this service, hire a Farmers Branch lawn service for support so you can get the best results possible.

Treat your lawn for weeds

Weeds can harm your lawn if left on it for long. Therefore, it's important to eliminate weeds as soon as they appear on the lawn. Ideally, a lawn service in the Farmers Branch should be consulted on how best to tackle weeds without issues.

Use pre-emergent weed control agents to stop weeds from taking root in your soil. Removal by hand, topical applications, and other post-emergent weed control agents are also recommended to keep your lawn weed-free and healthy.

Add fertilizer to enrich your lawn further

The use of fertilizer by a professional lawn service in the Farmers Branch can mean the difference between a successful lawn and a failed or failing lawn yard. It's best to use the right fertilizer suitable for the particular species of grass on your lawn.

Fertilizers rich in nitrogen, phosphorous, and potassium are the best type of fertilizer to use.

Just before introducing fertilizer, check with your lawn care in Farmer Branch on best practices when it comes to fertilizer application. Organic fertilizers are the preferred option to grow your lawn successfully without the risks of disease outbreaks, drought conditions, and toxic remnants.

Enhance bad spots with seeding

Bad spots can develop on a lawn over time. Bare patches, browned or yellow grass, etc, need to be treated so that the lawn looks uniform. It takes a level of expertise to treat such troubled spots. Consider over-seeding the area after treating the cause of the sparsely-growing grass. This will probably require hiring a lawn care service in the Farmers Branch to treat the affected area. Seedlings from the same species of grass on the lawn are to be used for this practice for best results.

Keep lawn tools and equipment in good shape

Lawn maintenance and care are best carried out when lawn care tools and equipment are in excellent shape. Keep the lawnmower serviced, oiled, and cleaned. Clean lawn tools and keep them in a cool dry place for storage.
Having a healthy, green successful lawn in Farmers Branch isn't rocket science. With the right steps, it is achievable. We believe that this post will serve as a guide as you become familiar with the secrets to a successful lawn in Farmers Branch.
Related Articles
What Is the Difference Between Lawn Care and Lawn Maintenance Services In Farmers Branch, Texas?
GoMow: How Much Does It Cost To Have Your Lawn Care In Farmers Branch, TX?