How To Improve Your Lawn In Some Weeks In Dallas, TX?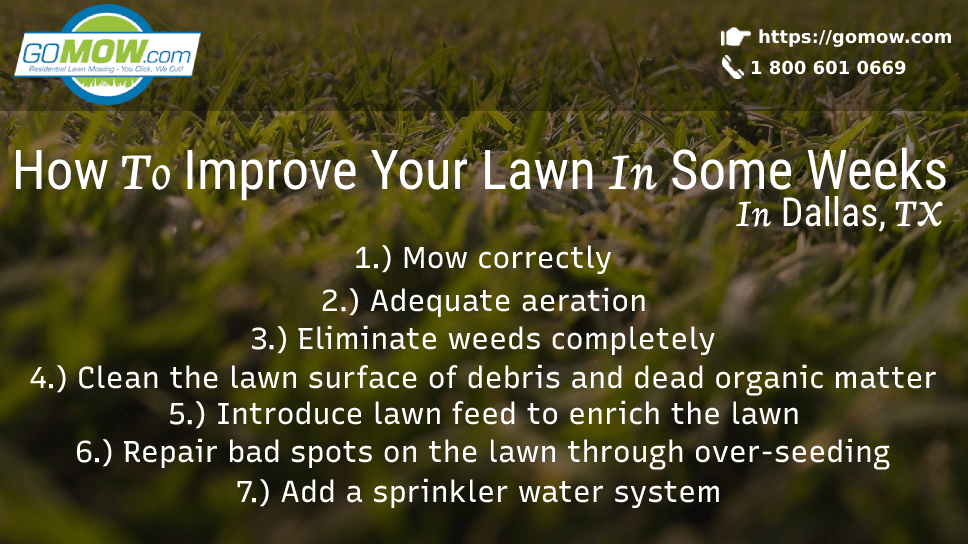 Improving your lawn doesn't have to take months to achieve. With the right lawn care plans and the best lawn service in Dallas by your side, you can improve your lawn in some weeks in Dallas, TX. To achieve this, a full range of services including mowing, fertilizer application, watering, weeding, etc will have to be carried out the right way.
As the winter season commences soon, lawn grass will have a tough time staying in good shape with all the cold. In this post, we have discussed the necessary steps to improve your lawn in some weeks in Dallas, TX.
These steps can get your lawn up and running in the best shape possible in less than 10 weeks:
Mow correctly

Mowing is the number one activity needed by most lawn yards. Mow diagonally so as to catch every blade of grass. If possible, hire a lawn mowing service in Dallas for this task as they're more likely to deliver good results.

Using a mulch mower will mean re-introducing grass clippings into the soil as an organic matter which is a good thing. Ideal mowing height as expected is to cut only one-third the height of the lawn grass. GoMow Lawn Mowing, Dallas, TX offers a proper mowing service you can count on at all times.

Adequate aeration

Aeration helps in breaking up clumps of the earth to increase the permeability of the soil. Using a garden fork or a mechanical aerator, your lawn maintenance in Dallas can loosen compacted soil to improve drainage, permeability, and movement of nutrients. Aeration should be done once a year to avoid overdoing it which can lead to bigger problems like loss of soil density.

Eliminate weeds completely

Weeds compete with regular plants for every resource which means that leaving them on your lawn yard will be a disaster waiting to happen. When left unattended, weeds will choke off your plants and eventually leave them browning and dead. The best move when it comes to tackling weed is to completely eradicate their presence.

To get started, you can either do it yourself or hire a Dallas lawn service to take care of things. Removal could be by hand or application of pre-emergent and post-emergent agents. Topical weed killers can also be used to eliminate specific weed plants

Clean the lawn surface of debris and dead organic matter

Use a rake to keep the lawn yard clean of dead grass, leaves, debris, and other organic matter that can affect the growth of the grass. Raking can be done by yourself if the lawn yard is a small one or by hiring a lawn service in Dallas for it. Have your lawn care in Dallas, TX to rake dead grass, collect debris, bag and dispose of them in a safe, non-harmful way.

Introduce lawn feed to enrich the lawn

Consider introducing organic feed into the lawn to increase its nutrient concentration levels to keep t healthy. Organic fertilizers are the best option for feeding the lawn because they decompose completely when introduced.

Hire a professional lawn mowing service in Dallas to check for the best fertilizer type for your species of grass. Warm-season grasses have a different feed type compared to cold-season grasses. After adding an organic feed, a bit of watering can help it soak through the soil for optimum use.

Repair bad spots on the lawn through over-seeding

To improve your lawn in some weeks in Dallas, repairing bare spots is a lawn care practice that must be done.

To do this, consider implementing over-seeding using the same species of grass seedlings. However, attention must be paid to the soil to get it ready for new growth. Break compacted soil, add some soil treatment and organic feed, soften up with water before introducing the new seedlings. For the best result, hire lawn care in Dallas to handle this process for your lawn yard.

Add a sprinkler water system

A sprinkler system can make all the difference when it comes to keeping our lawn hydrated and green during the lawn care season.

Watering should be done in the mornings when the sun isn't at its hottest to avoid evaporation.

Water deeply but infrequently to help the lawn to develop deep roots which are healthy for its overall well-being.
GoMow Lawn Mowing, Dallas, TX provides the best lawn mowing service in the Dallas area. Get in touch with us today to get a FREE QUOTE for your lawn right away.
Related Articles
Don't Miss Weekly Or Bi-weekly Lawn Care Services In Dallas, TX With GoMow
GoMow: One Of The Best Lawn Care And Lawn Maintenance Service Provider In Dallas, TX