How to Get The Best Affordable And Quality Residential Lawn Mowing Service in Richardson, TX – GoMow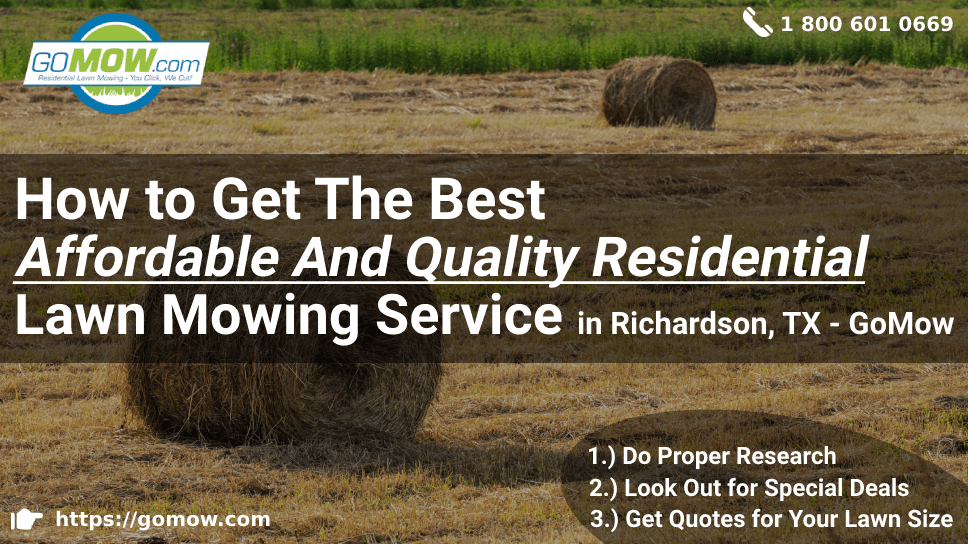 As much as every home owner would love to have a lawn that looks great, only a few of them are interested in spending tons of money on it. Most home owners would rather go for affordable lawn service in Richardson if they can help it. If you're looking to get the best affordable and quality residential lawn mowing in Richardson, Texas, this is one of the best posts you'd be reading today.
The key to not spending too much on lawn care is by following certain steps that are proven to work. But first, you must identify what you need for your lawn and how to get them. Here are three things you need to do to get the best affordable and quality residential lawn mowing service in Richardson, TX!
1.) Do Proper Research
If you own a lawn and need affordable lawn mowing, it's important that you do proper research on what your lawn actually needs. Narrowing down what you need will help you to spend less rather than wasting money on unnecessary lawn care. Check for what you need and go for just it and nothing else. It's possible that you only need lawn mowing and not fertilizer application. If this is the case, hiring a lawn service in Richardson for fertilizer application would be a wrong, costly move.
2.) Look Out for Special Deals
Lawn care services in Richardson will usually offer discounts and special deals during the off-season. Check for lawn mowing online to find these off-season specials. In addition to this, you could also seek recommendations from neighbors who are using some of these lawn care services. Some lawn care companies don't have enough clients to work with and will be quite eager to take you on.
For instance, GoMow Residential Lawn Mowing, Richardson, Texas offers a free quote for everyone booking on the site. The truth is that you will find discount deals and special offers if you actively look out for them.
3.) Get Quotes for Your Lawn Size
Every lawn has a specific quote that will be enough to take adequate care of it. This should be the first step you take before hiring a lawn mowing service in Richardson, TX. Do some checks on different lawn care services to know the best lawn care package for your lawn yard. By checking different services, you have an idea of how much you can spend without incurring losses. Every amount you spend on lawn care should be worth it in every aspect. Ask questions, bargain and negotiate prices and ensure that whatever deal you end up with is exactly what fits your budget.
Feel free to pick only a service you need – maybe it's only lawn mowing, or soil treatment or re-seeding, it's your money so make the best choice possible.
GoMow Lawn Mowing, Richardson, TX offers affordable and quality residential lawn mowing in Richardson. Contact us to learn more about how we can provide you with affordable lawn mowing to keep your lawn yard fresh, green and beautiful!
Visit us here – https://gomow.com/