When Should You Cut Your Grass In Irving, TX?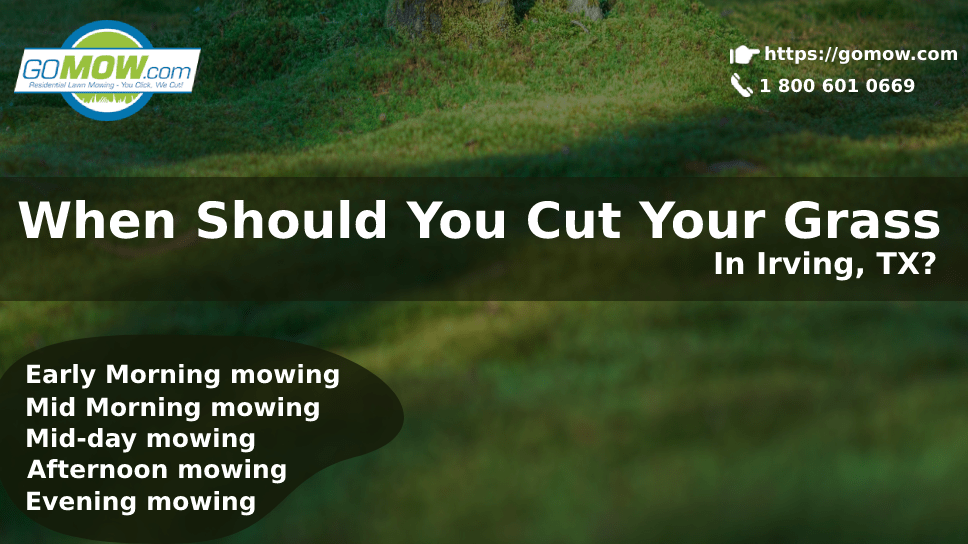 Cutting your grass is compulsory for any person whose property has a lawn yard. To keep your lawn healthy and clean, you need regular lawn mowing in Irving, TX. It cannot be avoided and can make a lot of difference in several ways. It is also important to decide on the best time to cut your grass for optimum results. By best time to cut your grass, we mean the best time of the day.
In this post, we have discussed when you should cut your grass in Irving, TX. Considering the weather, the terrain, and other prevailing conditions, when you should cut your grass actually depends on when it will yield the best results. There is an optimal time of day to mow your lawn and it's expected that your lawn mowing service in Irving, TX will also know this as well.
Below are the different times you should cut your grass and the expected outcomes:
Early Morning mowing
This is the worst time to mow your lawn because it will still be wet from morning dew which can clog your mower blades and make it hard to cut through the grass. At this time, there is also an increased risk of disease outbreak as the cut grass is in a wet environment which is very viable for disease-causing fungi. Your lawn care service in Irving, TX should avoid early morning mowing as much as possible.
Mid Morning mowing
This is the best time to mow the lawn by your Irving lawn service. At this time, most of the morning moisture would have dried up so can you mow with relative ease.
At this time, there are also fewer chances of heat scalding the exposed cut grass which can heal properly before nightfall.
Less heat also means the lawn care personnel cutting the grass can be in relative comfort while mowing the lawn. Choose mid-morning lawn mowing for these reasons. Most lawn care services in Irving, TX, and other locations prefer mid-morning mowing.
Mid-day mowing
Mid-day mowing is the second-best time to mow your lawn. If you miss mid-morning mowing, mid-day morning is the next available time for best results. Only cut your grass at this time if you miss mid-morning mowing.
Temperatures at this time would still be milder and there will be enough time for your grass to recover before night comes. Consult lawn mowing, Irving TX for detailed analysis too.
Afternoon mowing
Mowing in the afternoon is fair enough but isn't the ideal time to mow your lawn. There is a risk of burning your grass due to the increased exposure of your grass to the sun. However, if you're using a professional lawn service that knows their onion, this shouldn't be a problem. If you have concerns, we suggest making informed decisions by first consulting with an Irving lawn service.
Evening mowing
Cutting your lawn at this time of the day is as bad as early morning mowing because the same conditions are prevalent in both cases. There's the danger of increased moisture on the cut grass and diseases can easily infest the grass from the open cuts in a wet condition.
Final words
Do not mow your lawn with dull blades because it can cause more harm than good. Dull blades do not cut cleanly and rather tear and shred your grass causing damage. The best time to mow is mid-morning or mid-day after you must have sharpened your mower blades properly.
Are you ready for the best lawn mowing in Irving, TX? Contact us at GoMow Lawn Mowing Service, Irving, TX to get a free quote today.