Trust And Follow The Expert Lawn Care Services Provider In San Antonio, TX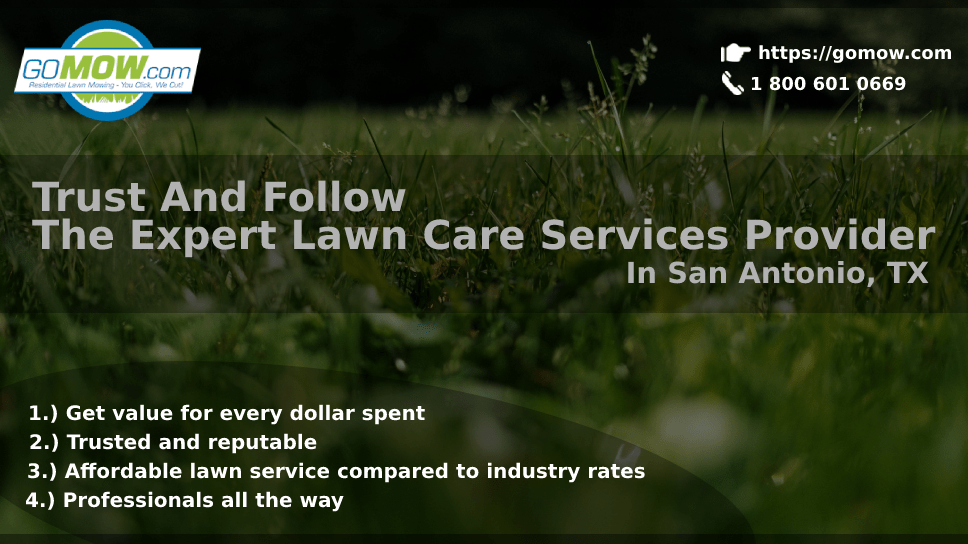 If you own a lawn yard or garden space, it's in your best interest to trust and follow an expert lawn care service provider. Busy homeowners in San Antonio who barely have time for lawn care or lack the experience are best-suited to hire San Antonio lawn mowing. The benefits of choosing an affordable lawn care in San Antonio will reflect on your lawn and in this post, we have discussed why it's a great decision you should take.
Get value for every dollar spent

Lawn care can be a bit pricey if you're careless about it. This is even more so when you try to do it yourself. Lawn damage can happen when you do the wrong things on your lawn. However, when you hire trusted lawn maintenance in San Antonio, you will get value for your money provided you picked a reputable lawn service.

In fact, you also spend less money because most lawn care in San Antonio has different services in the package offered to customers. Rather than incur cost with DIY lawn care, you save money by doing it once and getting it right immediately.

Trusted and reputable

Reputation is everything in the service business. A lawn service in San Antonio, Texas with no or poor ratings will be out of business in no time at all.

Working with a trusted lawn mowing company means you get to experience quality lawn care that's worth your money.

It's recommended that you carry out your due diligence by checking for reviews online and other review platforms. Google reviews and TrustPilot are good resources that you can leverage to check for nice reviews.

For instance, GoMow Lawn Care Service is highly rated when it comes to delivering excellent lawn mowing for customers. Feel free to check out our lawn care service in San Antonio and get a quote here >> www.gomow.com/service-areas/san-antonio

Affordable lawn service compared to industry rates

When choosing a lawn maintenance service in San Antonio, pricing is an important factor that shouldn't be overlooked in any way. We offer a quote-based pricing system though typically large awns cost around $50 while small lawn cost $30 for mowing. Industry rates are usually way higher than the listed figures here.

When you use GoMow Lawn Care Service, you enjoy an affordable lawn care treatment with zero compromise on quality. What you see as our offer is exactly what you get.

Professionals all the way

At GoMow Lawn Care Services, we exhibit professionalism all the way. From the first point of contact to the point of service delivery, we understand what it takes to keep our customers happy and satisfied with our lawn mowing service. If you need a lawn service that's worth every dollar, then we are your best bet. We believe in placing our customers' needs first at every point during the lawn care service delivery process.
Lastly, we offer quality lawn maintenance in San Antonio, TX. Our focus is on tackling your lawn mowing needs fast and reliably. If you are looking to get started with lawn mowing in San Antonio, visit us right now to begin. Trust and follow an expert lawn care service in San Antonio that has your best interest always.