Let's keep your Texas lawn green, beautiful, and healthy in this Christmas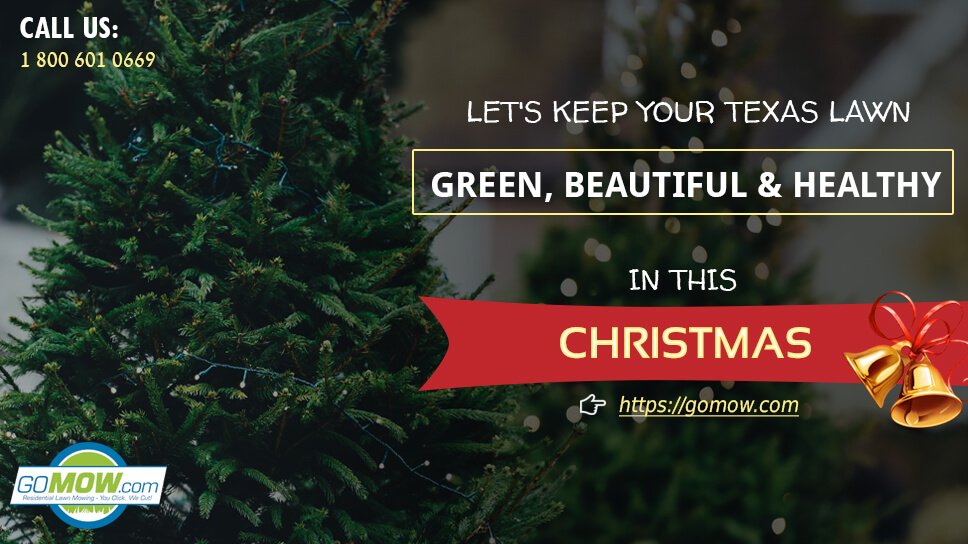 It's that special time of the year once again – Christmas. We at GoMow Lawn Mowing Services, wish you the best compliments of the season!
Have you made plans with any lawn care service near you for your lawn yard this Christmas?
At GoMow Lawn Mowing, we are committed to providing you with the best solutions for your lawn always and this Christmas, we have made up this list on how you can keep your Texas lawn green, beautiful, and healthy!
You know lawn care shouldn't be paused just because it's Christmas. Granted, it might be a time to take a slower approach to it but your lawn still needs the best care it can get just like you this wonderful season.
Try out these tips to prepare your lawn better for winter this lovely Christmas season!
1.) Apply fertilizer to feed your lawn grass enough for winter
Whether you wish to do this yourself or involve a lawn care service, fertilizer application is necessary to get your lawn ready for the cold of winter. Using a spreader and following instructions on the fertilizer package, release the fertilizer onto your grass evenly.
Of course, you must make sure you use organic fertilizer. They have better nutrient content and have no known negative side effects now or in the future as long as you don't abuse it by over-applying it.
2.) Aeration is necessary even before applying fertilizer
While getting your lawn yard ready for Christmas season, you may need to aerate the lawn at this time because of the cold that will probably be clogging up your soil at this time. Aeration will also open up your soil better to allow air (oxygen) and the dispersal of the applied fertilizer.
Aeration can be done using a garden fork if you have a small lawn yard or hiring a lawn services company in Texas for the task if you have a large lawn yard.
3.) Reseed where needed to keep your grass even this Christmas
Certain cool weather grass seeds are available for re-seeding lawns during the cold season. You can get these cool-season grass seeds to reseed your lawn where necessary this Christmas.
True, your lawn grass is probably going to be covered with snow most of the time but it still doesn't hurt to try this approach. Certain areas of Texas experience low snowfall and will benefit from this activity.
For best results, you might consider hiring an affordable lawn care service in Texas to do this for you this Christmas. Remember, it's holiday season and you really should take some time off from stress and time-consuming stuff.
4.) Clear and clean debris from the lawn
It's quite normal to have leaves, tree branches, dead grass, wrappings from items, toys and what-have-you on the lawn but leaving them there for long periods isn't exactly healthy for your lawn.
These things can attract pests and parasites to infest your lawn. If the item is heavy, it could smother that specific area of your grass.
You might need to inspect and rake your lawn yard from time to time to keep these things off it. Again, hiring a GoMow cheap lawn care services in Texas might be the answer if you have a busy schedule this Christmas.
Consider GoMow Lawn Care Services as we can reach an agreement with you on how to care for your lawn this season!
5.) Be on the look-out for traffic on the lawn
Heavily treaded lawns experience a lot of stunted growth afterward. During Christmas, it's normal to have activities out on the lawn but care should be taken so this doesn't smother the grasses underneath all that snow.
Most grasses are naturally-tolerant to pressure from being walked on but too much activity can still become detrimental to your lawn's health.
Heavy items like cars and other machinery should be kept off the lawn if necessary. Foot traffic should be regulated as well.
6.) Monitor the lawn to take out over-iced areas if possible
Most lawns are tough and can survive even the harshest weather conditions but it doesn't hurt to help out with some loving lawn care. This Christmas, consider chipping away any areas of your lawn that become overly-frozen.
Caring for your lawn this Christmas will put it in the best shape possible for next year's spring. Are you ready to get started?
Contact us today at GoMow Lawn Mowing Service Texas & Click below to get a quick FREE QUOTE for lawn care services in Texas areas.