Lawn Care Tips from GoMow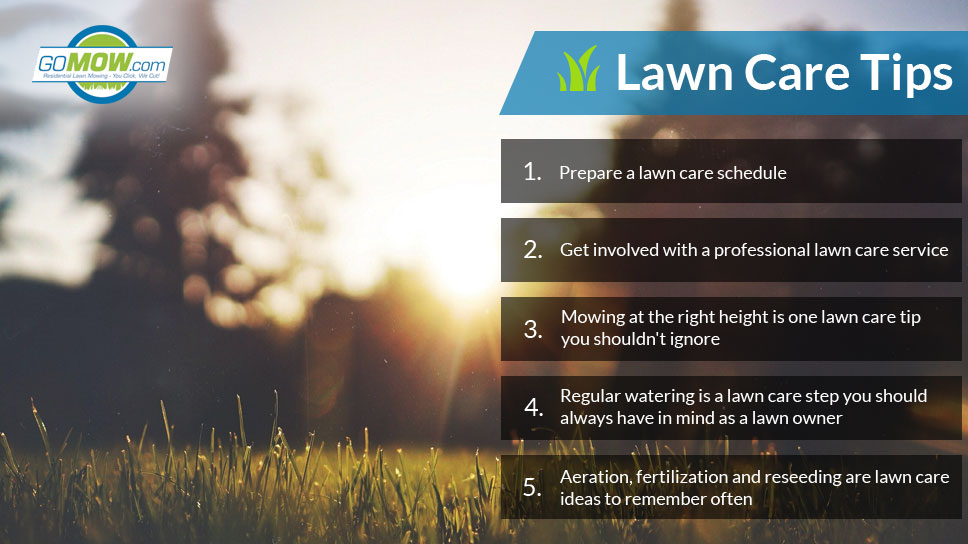 Most lawn owners always strive to keep their lawns as clean, healthy and beautiful as possible. The truth is, it doesn't have to be such a chore to have that lush, green lawn you want if you plan properly towards it.
A good number of lawn care services like GoMow Lawn Mowing Service, Texas are available to take absolute good care of your lawn. You don't have to break a sweat when you have an affordable professional lawn care service in charge.
In this post, you will find some lawn care tips needed for proper lawn care as suggested by lawn care company Texas.
Prepare a lawn care schedule

Having a lawn care schedule helps you prepare and care for your lawn as needed. With a schedule, you will know which lawn care activity is expected or needed at every point in time.

A lawn care schedule should be set to fit the type of lawn grass and season you have in your area. A seasoned lawn care expert can look it over to ensure you have an effective schedule in place to care for your lawn.

Your lawn care schedule should contain details like when to mow, water, aerate, reseed, apply fertilizer etc.

Once a schedule is in place, you would need the discipline to follow up the schedule, but if you can't keep up, you can engage a lawn care service to take care of your lawn.

Get involved with a professional lawn care service

By virtue of their practice, professional lawn care services in Dallas are the best people to take care of your lawn. They have the resources, training, manpower, and equipment to provide your lawn with everything it needs to be healthy and green.

Most lawn care services have different service packages with different price points making it easy for everyone even if you are on a tight budget.

If you are not always available to take care for your lawn, appointing a lawn care service to do the job will go a long way in keeping your lawn in good care.

In addition, using a lawn care service means you do away with any trial-and-error or second-guessing.

In the end, when you use a lawn care service in Texas, you are more likely to save more money and care for your lawn better without incurring any expenses from your inexperience or potential carelessness.

Mowing at the right height is one lawn care tip you shouldn't ignore

One of the biggest mistakes most lawn owners make when mowing is to mow too close to the ground. Ignoring this lawn care tip is dangerous to your lawn for a number of reasons:

It exposes the tender shoots of your grass to the elements (heat of the sun) and can harm the lawn
It cuts off much of the leafy foliage of the lawn necessary for photosynthetic activities
It causes spaces on the lawn where pesky weed seedlings can find footing, grow and compete with your lawn grass.
It gives your lawn a patched, dried-up look which isn't aesthetic to the eyes.

The correct height to mow your lawn according to industry specifications is to cut only one-third of the length of the lawn grass. To do this, you need to know the maximum height your type of lawn grass grows, and then set your lawn mower blades to the proper height before mowing.

"Thickly grown lawn grass has been known to repel weed infestation effectively."

For proper guidance and execution, you can consult with a lawn care service close to your location to confirm your maximum lawn grass height and help set your lawn mower blades accordingly.

Regular watering is a lawn care step you should always have in mind as a lawn owner

Just like every living thing on earth, your lawn grass needs regular watering to grow properly. Texas isn't known to have the heaviest rainfall, so it's important you have a watering schedule in place for your lawn.

For large lawns, sprinklers can be set up on your yard and automated to go off when needed. For small lawn yards, a simple water hose set-up should be enough to do the job.

"You can do your lawn watering yourself as it's not as tasking an activity as lawn mowing is."

Watering can be done once or twice a week depending on the prevailing weather conditions. During each watering session, the water level should be about an inch above the soil for proper permeation of the soil.

The best time of day for watering is in the morning between 6 am to 10 am before the sun hits its zenith.

Aeration, fertilization and reseeding are lawn care ideas to remember often

Aeration loosens your soil making it easier for nutrient, water and oxygen permeation for your lawn grass' activities.

Fertilization improves the nutrient content of the soil enriching it with the nutrients it needs for its metabolic activities.

Reseeding re-grows your lawn to be filled-out with healthily-growing grasses preventing weed infestation. Each of these activities is important and should be carried out when necessary to give your grass the best chances of growing and developing properly.

In conclusion, lawn care is a continuous, never-ending process and every lawn owner should see it as part of the necessary living activities in their lives. For better care of your lawn, click below to get a quick quote for lawn care services – GoMow engaged to do the heavier, tasking jobs!