GoMow grass cutting services in Texas 2020: All you need to know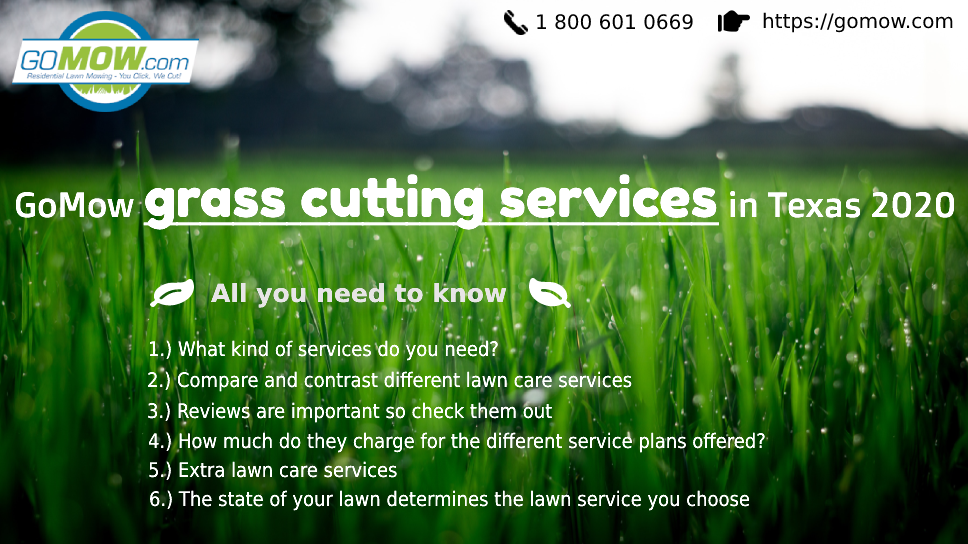 If you have a lawn yard, it's almost mandatory that you have to find a way to take care of it. Now, the thing is this, unless you have lots of free time, lawn care expertise and experience, doing lawn care yourself is out of the question. The recommended way out to give your lawn the best care it deserves is to hire a residential grass cutting service.
GoMow Grass Cutting Service, Texas excels in this regard, and in this post, we have discussed in detail all you need to know about lawn care services in Texas in 2020. It's important that every lawn owner has this information because the look of your lawn is determined by the type of lawn care service you hire. While some can make you very satisfied with your lawn yard, others can cause you a good deal of frustration if care is not taken.
Read on below to find out how you can hire a grass cutting service and all you should know while at it.
1.) What kind of services do you need?
This is a question every lawn owner looking to hire a lawn mowing service should ask themselves. What kind of services do you need? By asking this question, your mind focuses on the services you're actually looking out for. It priorities your needs accordingly and you go for grass cutting services that fit your needs.
Doing this will save you time, money and effort because you'll be putting your efforts where it will bear the most results. Your lawn will be better for it and you'll be happier too. Therefore, check and confirm the services you need then pick out lawn mowing companies in your area that provide them.
2.) Compare and contrast different lawn care services
This is as easy as it gets and very necessary. Remember that the objective of picking a lawn mowing service is to get your lawn yard looking and growing great. There's a need to pick a lawn service that can deliver this object without much difficulty.
List out the different affordable lawn care providers that offer the services you need then do your due diligence on their services. How good are they? Do they offer discounts? Do they offer extra services? These and more are the things to look out for when trying to know more about a residential grass cutting service.
Compare their lawn care plans with each other than contrast them to see which one works best for you. In the end, you will have to make a decision on the lawn company that meets your needs the most.
3.) Reviews are important so check them out
One way to tell if a lawn service in Dallas is as good as they claim to be is to visit their feedback page, ask neighbors or colleagues who use the service, or check them out on online boards. You'll find your answer quickly enough.
You may quietly ask people who have used their services previously what they think of them. Alternatively, ask your friends and family for recommendations and they will come up with good options you can work with. If a Texas lawn cutting service is great at lawn care, they will naturally have many amazing 5-star ratings on their page
4.) How much do they charge for the different service plans offered?
Pricing is important and you must find out before you choose a lawn care service in Texas. If their fees are way above what you can afford then you have to look for a more affordable option. While some services may be expensive, basic lawn mowing should be much within your reach.
It's also a good plan to choose a retainer service whereby you hire them for longer periods. Oftentimes, it's cheaper to pay for an annual lawn care subscription than a monthly payment option. The final decision is yours to make, however, and it's expected that you go with what you can conveniently handle.
5.) Extra lawn care services
Basic lawn mowing is great but you simply need more than that to care for a lawn adequately. Lawns need watering, fertilizer application, weeding, aerating, over-seeding, and other lawn care practices to keep them in good shape. If you're looking to hire a grass cutting service in Texas, you must consider the other options or extra lawn care processes they offer.
6.) The state of your lawn determines the lawn service you choose
If your lawn is in need of reseeding or rehabilitation then you need to hire a grass maintenance service that offers lawn rehabilitation. The truth is that not all lawn services offer this kind of work so you have to be careful when choosing one. The state of your lawn will determine the lawn maintenance service you hire. Costs also comes into play when the condition of your lawn is under question. For instance, lawn renovation will definitely cost more than water application.
GoMow Lawn Mowing offers an outstanding grass cutting service capable of putting your lawn right there on top as the most beautiful lawn in your neighborhood. If you're looking to know more and get started with a grass cutting services in Texas in 2020, GoMow Lawn Mowing, Texas offers a good option.
Visit us here to get a free quote for your lawn: www.gomow.com