Get Started With Top-Rated GoMow Residential Lawn Care Services In Dallas, TX Area Today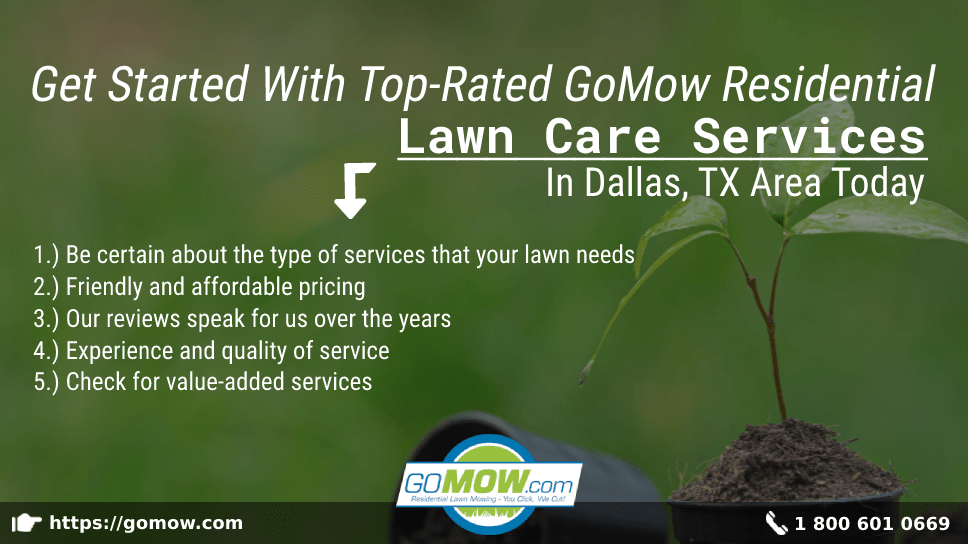 For lawn owners looking to get started with a top-rated lawn mowing service in Dallas, GoMow lawn mowing offers a professional service that will leave you delighted and signing up for more. There are several advantages that come with working with a lawn care service in Dallas, TX.
If you're a home owner like most people, it's possible you don't have the time or experience to cater to your property's lawn care needs. This is where hiring a professional lawn care company comes in useful.
The best way to treat your lawn to the best care it deserves is to hire a lawn maintenance company in Dallas.
In this post, we discussed the advantages of hiring a top-rated GoMow lawn mowing company in Dallas, TX for 2021.
Get started below:
1.) Be certain about the type of services that your lawn needs
Before hiring GoMow Lawn mowing service, it's important to identify the type of services you might need for your lawn. Though GoMow lawn mowing offers lawn care, we do not offer every service so it's important to be sure of what you need before getting in touch.
We are first and foremost a lawn mowing company handling mowing services all over Texas. For all your mowing needs, GoMow lawn mowing are your best bet to keep your lawn neatly groomed and beautifully green. GoMow Lawn mowing offers residential lawn mowing designed to keep your grass in shape.
2.) Friendly and affordable pricing
If you're looking to hire GoMow lawn mowing services in Dallas, TX area today, it will interest you to know how we compare against other services. Our pricing are friendly and tailored to fit you budget regardless of the size of your lawn.
We have your best interests at heart and offer professional services that would cost more when offered by other services. You get value for money when you book a service with GoMow lawn mowing. If you're looking to get started with hiring a lawn mowing company, do a comparison of our services against other services before reaching a decision.
3.) Our reviews speak for us over the years
The fact that we go above and beyond to deliver an excellent service for our customers means we have great review to back up our services. Before getting started with us, go on to check online and local reviews about services. Here are some reviews,
"Monday was the first time we used GoMow lawn care. It was a very pleasant experience. I am still kind of stunned about how fast they cut, edged and mowed our lawn and did an excellent of it." – Lorraine Kraft
"My lawn has never looked better! They leave an immaculate lawn, the right height, edged and clean. Good price & great service! I wouldn't use any other." – Abigail Chance
"I LOVE Go Mow! They are so fast and efficient and the best pricing around! They do a great job with edging our sidewalk, weed eating our fence, and keeping our HOA happy! They are also fantastic at communicating if something comes up! Best mowing service around! Thank you!!! A++++++" – Shannon Kay
None of these reviews are manipulated as GoMow lawn mowing does everything possible to deliver an excellent mowing service.
Before getting started, go head to ask friends and loved ones who have or who still use lawn care services for recommendations. GoMow Lawn mowing services will delight you with one of the best lawn mowing experiences you'd come across as a home owner.
4.) Experience and quality of service
If you're getting started with lawn care, it's interesting to note that we offer a quality service that will be worth every dollar that you spend. We offer a quality lawn mowing service that will have you satisfied without looking for other options. Whether you're hiring us for a retainer or for a one-time service, be rest of assure we will meet your needs as expected.
5.) Check for value-added services
At GoMow lawn mowing, we don't just offer lawn mowing as a service. You can count on our lawn care personnel to run regular checks on your lawn as well as handle other basic lawn care activities within our capacity.
To get started, visit our website at https://gomow.com/ to get in touch with us and see how we can be of assistance to you.
If you're having problems with your lawn, we will usually be the first to let you know. GoMow lawn mowing Dallas, TX understands exactly what it takes to get your lawn up and running. Our value-added services will help your lawn look the best in your neighborhood.
Are you looking to get started with a top-rated lawn mowing company that's worth your money?
GoMow Lawn Mowing delivers an excellent lawn mowing service that will keep your lawn healthy, green and beautiful.
Visit us to get a free quote for your next lawn mowing: https://gomow.com/