Relax And Enjoy Your Time With The Family; Get The Best Grass Cutting Services From GoMow In San Antonio, TX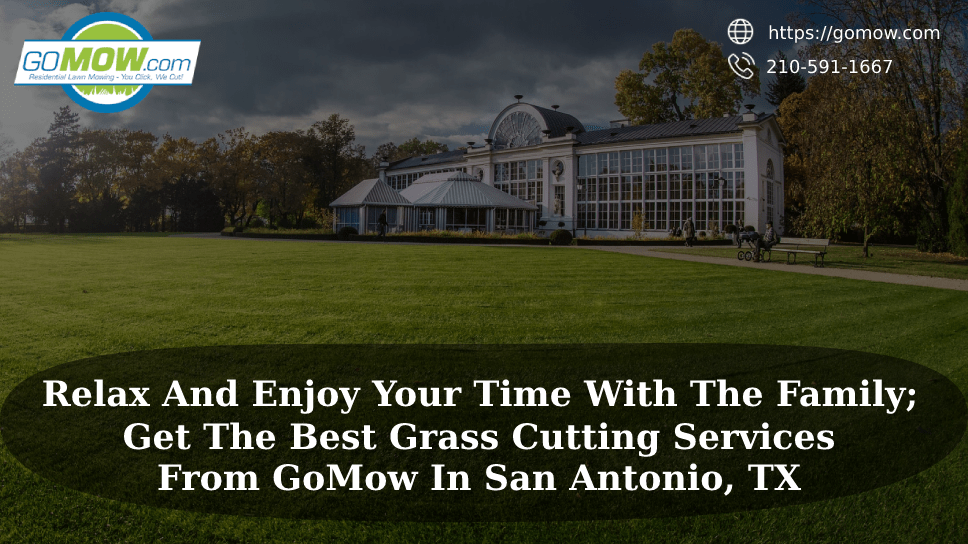 One of the perks of owning a lawn is being able to relax on it and enjoy your time with family usually during a bonding session. Lawns are a great place to sit out and have fun. It could be a drinking session, a barbecue party, or some other fun activity that everyone will enjoy. Therefore, it stands to good reason that if you want the best grass-cutting service from GoMow Lawn Mowing, San Antonio, you need to know what to expect.
We have detailed what to expect to get the best grass-cutting experience for your lawn. Whether you're looking for basic yard service in San Antonio or professional mowing, you'll enjoy your lawn more when you have us caring for it.
Professional experience in lawn care

You can get professional lawn mowing from GoMow Lawn Mowing in San Antonio, Texas. If you hire us, there is no need for speculation or trial-and-error. We have been in the game for a while and have many satisfied clients who return time and time. You want lawn maintenance in San Antonio, TX that knows what they're doing when and GoMow Lawn Mowing, San Antonio, Texas, has mastered the process throughout the years.

Superior upkeep and maintenance

GoMow Lawn Mowing, San Antonio, Texas, is a team of highly skilled lawn care professionals. This knowledge of optimal methods in lawn care comes through experience and learning new skills. We are experts on the subject thanks to our many years of dedication. Customers can relax knowing that when they work with us, they will get their money value. For all your lawn mowing needs to keep your grass in the finest possible shape, contact us at any time by searching for grass cutting near me in San Antonio. We are likely to be top of the search results; alternatively, you can visit www.gomow.com/.

Longer-term savings

Any lawn owner would see the benefits of hiring a service offering grass cutting in San Antonio when compared to the negative effects of managing their lawn care alone.

One benefit is that it will save you from making expensive financial blunders. These errors are unavoidable if you choose to employ a cheap, subpar lawn service to save money or try to take care of your lawn yourself without the necessary experience or training.

But if you work with a San Antonio lawn care company like GoMow, there won't be many mistakes, and the retainer service is less expensive.

Our offerings are reasonably priced

We provide a service that is affordable and offers excellent value. GoMow Lawn Care Services in San Antonio offer reasonable lawn mowing that fits inside your budget in comparison to other services. Even if you're looking for just mowing in San Antonio, you will find out service excellent for your needs.

Although we typically charge varying rates for various lawn sizes, you can be confident that our costs are affordable. Thanks to our service delivery and other factors covered in this write-up, we think we simply provide more value for your money.

Boosts your property's charm and projected worth

The appearance, feel, and perceived value of a property are all enhanced by appropriate grass maintenance. Having a great lawn is an excellent method to boost your property or home's value if you want to sell it in the future. Enjoy and relax on your lawn as you get that feel-good feeling that only a great environment can provide.
Do you need affordable lawn care in San Antonio, TX? Visit right away and fill in your information to request a Free Quote today. Everyone deserves to experience the beauty of residential grass cutting in San Antonio.
Book your quote here: https://gomow.com/service-areas/san-antonio/.