What Type Of Grass Grows Best In San Antonio, Texas?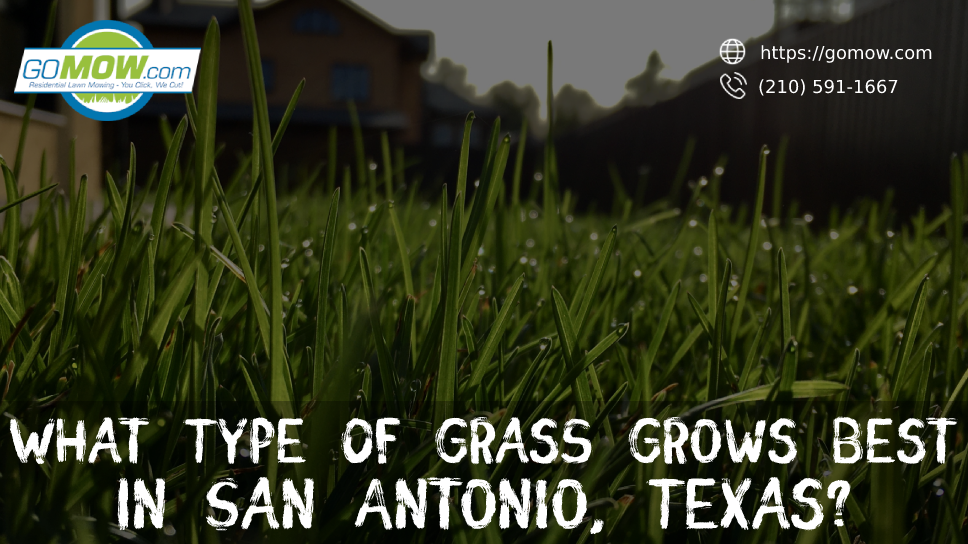 For homeowners looking to start a lawn in San Antonio, it's important to know what type of grass grows best in San Antonio, Texas before getting started. It's also necessary to know if you need to improve the lawn soil with some feed before planting the chosen grass type. Lawn care in San Antonio offers a variety of options on the best ways to start your lawn care and maintenance.
In this post, we have discussed what type of grass grows best in San Antonio, Texas. The number one criteria to consider is to choose a warm-season grass capable of withstanding the Texas heat, and secondly, choose a grass type with the ability to have a long summer season with minimal dormancy during the mild winter.
Below are our best recommendations for your lawn soil:
St Augustine Grass

St Augustine Grass is one of the best grass types to consider on a lawn in San Antonio, TX. There are two types known as Floratam and Raleigh that can grow in San Antonio. These two species are the top recommended species in San Antonio for planting on your lawn.

St Augustine grass has the following features which make them great:

Warm season grass
Loves the sun but tolerates the sun
Drought resistance
Tolerant to moderate foot traffic
Durable grass with low maintenance needs
Mowing height is pegged at 3-4 inches

Whether you go for the Floratam or Raleigh species, you will get value for your money. It's also important to hire an experienced mowing service in San Antonio for the best results.

Bermuda Grass

The list of warm-season grasses that can grow well in San Antonio will be incomplete if Bermuda grass isn't included. This type of grass is perfectly-suited for San Antonio and can survive a lot of harsh conditions with ease. Bermuda grass loves sunlight and thrives best under it.

If you are considering affordable lawn maintenance in San Antonio, TX, Bermuda grass is a perfect fit.

Below are some features of Bermuda grass which make it a winning grass type for San Antonio lawn owners:

Warm season grass
Sun-loving grass with a low tolerance for shade
Drought resistant
Requires regular mowing, up to twice a week from a lawn service offering grass cutting in San Antonio, TX
Fertilizer needs are moderate
Mowing height is pegged at 1-2 inches for best results

Bermuda grass is easy to maintain with basic lawn care practices. With assistance from a yard service in San Antonio, choosing Bermuda grass for your lawn is an excellent choice.

Zoysia Grass

One of the most beautiful warm-season grass you can choose in San Antonio is the Zoysia grass. It's a thick-growing, always-green grass with a high level of durability. Zoysia grass can tolerate high levels of traffic, drought, and moderate shade.

It is best planted using sods so your lawn care in San Antonio has to take note. The lovely thing about Zoysia grass is the fact that it will always bounce back from any stress.

Zoysia grass has the following features:

Warm season grass
Moderately shade tolerant but loves the sun
Drought tolerance ranges from moderate to high
Foot traffic is moderate to high durability
Mowing height is pegged at 1-2 inches for best results

Zoysia grass is always a recommended grass type and won't disappoint.

Buffalo

In the drier climates present throughout Texas, buffalo grass is a preferred option for many homeowners. The popularity of this grass is widespread throughout the state, especially in drier areas, and it thrives in warm, dry weather. It also resists drought.

This grass grows best in areas with less than 20 inches of annual rainfall. Buffalo grass can also withstand some of the state's highest temperatures and adapts well to a wide range of soil types. Most lawn care services in San Antonio have extensive experience with this grass type.

Carpet grass

Texas' coastal regions are the natural home of carpet grass, perennial grass with coarse leaves. It thrives in moist soil at lower elevations. Both sunny and shaded environments should be favorable for the growth of this grass. It is, however, less shade tolerant than its close relatives, St. Augustine and Centipede grass.

Mowing this grass variety will be a lot of fun for your lawn service in San Antonio. In general, carpet grass is a lovely, lush grass that endures the unpredictable Texas weather and stays green and healthy.

Keeping your grass healthy, no matter what type you choose should be your primary concern. It is challenging to maintain your lawn in good condition. GoMow Lawn Care Services can help with lawn mowing, yard maintenance, and weekly lawn care in San Antonio.
Check out our website today to start your journey in affordable lawn care in San Antonio!
Go to www.gomow.com for more information.