The 10 Best Grass Types For Texas Weather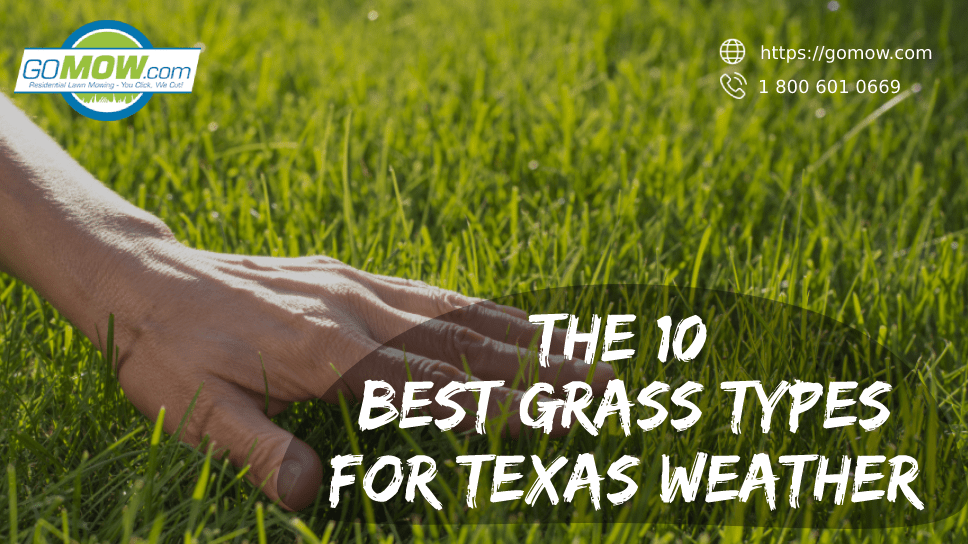 Owning a lawn yard in Texas means you have to deal with a grass type for as long as you remain a homeowner. Therefore, it's important to know the grass types that are best for the hot weather in Texas. Not all grass types will thrive in this location. Most lawn maintenance services will let you know if you inquired that certain grass types do better than others.
Considering how mercurial Texas can be – it could be sunny this minute and rainy the next, lawn owners will have it easier going for a grass type that can withstand harsh weather conditions. After reading this article, you'd be in a better position to know which grass types are ideal for your lawn even without any assistance from a lawn mowing service.
Below are the 10 best grass types for Texas weather:
Bermuda Grass

Bermuda is one of the most popular grass types used in Texas. This is because Bermuda grows well in the various climates found throughout Texas. Furthermore, Bermuda comes in a variety of varieties, making it well suited to the state's various climates. Although this grass can grow in most soil types, it thrives in coarse, sandy soils. Hire a grass cutting service to mow your Bermuda grass to the best effect.

Buffalo

Buffalo grass is a popular choice for many homeowners in the drier climates found throughout Texas. This grass grows well in dry, warm weather, and its drought resistance makes it popular throughout the state, particularly in dryer areas.

More specifically, this grass thrives in areas with less than 20 inches of annual rainfall. Furthermore, Buffalo grass can withstand some of the state's highest temperatures and adapts well to a variety of soil types. Most lawn care services have a lot of experience with this grass type.

Centipede

Centipede grass is a major grass in Texas. This grass type is a moderately, slow-growing grass that provides many other advantages to lawn owners across the state.

For one thing, this grass has the potential to be an advanced species that produces thick, verdant, weed-free turf.

This lawn type is excellent for property owners who want a beautiful lawn yard that requires little maintenance. If you are looking at cheap lawn mowing services, your first step is by choosing Centipede grass.

St Augustine

This variety is also an excellent choice due to its incredible texture and stunning appearance. St. Augustine grass may be the best choice for you if you have a lot of trees on your property, including a lot of shade. This grass thrives in areas that are completely shaded, especially those shaded by mature trees. It thrives naturally in the shade, but it can withstand most weather conditions. De-thatching St. Augustine grass once a year is required to keep it in good shape so you will get the best out of it.

Zoysia

There are numerous varieties of zoysia grass, including Zeon Zoysia and Palisades Zoysia. Each type is perfect for the South's hot weather and drought seasons. The grass can grow in both shade and direct sunlight. Because it grows thick and slowly, it is resistant to weeds and requires less mowing, making maintenance much easier.

Zoysia grass is a popular choice among Texas homeowners. This species performs very well, and the look and feel of this grass are unrivaled.

Although it is more expensive than Bermuda and St. Augustine, it grows well in a variety of soil types and weather conditions. Let's say you're searching for affordable lawn care near me in Texas, GoMow Lawn Care Services is highly recommended.

Carpet grass

Carpet grass is coarse-leaved perennial grass native to Texas' coastal areas. It grows best in moist soil at lower elevations. This grass should be able to thrive in both shady and sunny conditions. It is, however, less shade tolerant than its close relatives, St. Augustine and Centipede grass.

Your lawn cutting service will have a lot of fun mowing this grass variety. Overall, carpet grass is a beautiful, lush grass that stays green and healthy in the ever-changing Texas weather. This species can be grown from seeds or sprigs.

Kentucky Bluegrass

Kentucky bluegrass is a very familiar grass type, particularly in Texas. In truth, this grass type is used on many home lawns, as well as green spaces and recreation areas. When appropriately fertilized, this species has medium- to fine-textured leaves and turns a medium- to dark-green color. If you are getting started with this grass type, a grass mowing service with experience is your best bet.

Furthermore, this grass produces numerous underground stems known as root systems, which deliver exceptional sod-forming abilities as well as numerous other benefits. Furthermore, Kentucky bluegrass withstands cold well, does not wear easily, and is moderately heat and drought tolerant.

Seashore Paspalum

Seashore Paspalum thrives in Central and South Texas as well. It is not very tolerant of cold temperatures, but it can tolerate higher salinity levels in irrigation. We advise consulting your lawn maintenance service for their professional opinion if you choose to go with this grass. The salinity tolerance makes this grass one of, if not the, best grass for Central Texas. Seashore Paspalum, as the name suggests, is best suited to coastal settings, but it can also be used on the inland property.

Rye Grass

Ryegrass is an excellent choice for over-seeding warm-season grasses throughout Texas. They can be used as a temporary winter cover on new lawns that have not yet been established permanently. Ryegrasses are also used for overseeding, which is when warm-season grass is given a green cover in the winter.

Tall Fescue

Tall fescue can withstand various soil conditions, but, like most turf grasses, grows best in soil pH ranges between 5.5 and 6.5.

Tall fescues generally require irrigation to survive the heat and dry spells. Fescue can be used in shady areas throughout the state. Consult your lawn mowing service for expert assistance too.

Whatever type of grass you choose, keeping it healthy should be your top priority. Maintaining your lawn is a difficult task. Whether you need lawn mowing, yard maintenance, or weekly lawn care, GoMow Lawn Care Services can help.
Visit our website today to enjoy lawn mowing online!
Go here – www.gomow.com.
Related Articles
How Do I Keep My Lawn Alive In Texas?