Top-rated and most trusted lawn care and maintenance services in New Braunfels, TX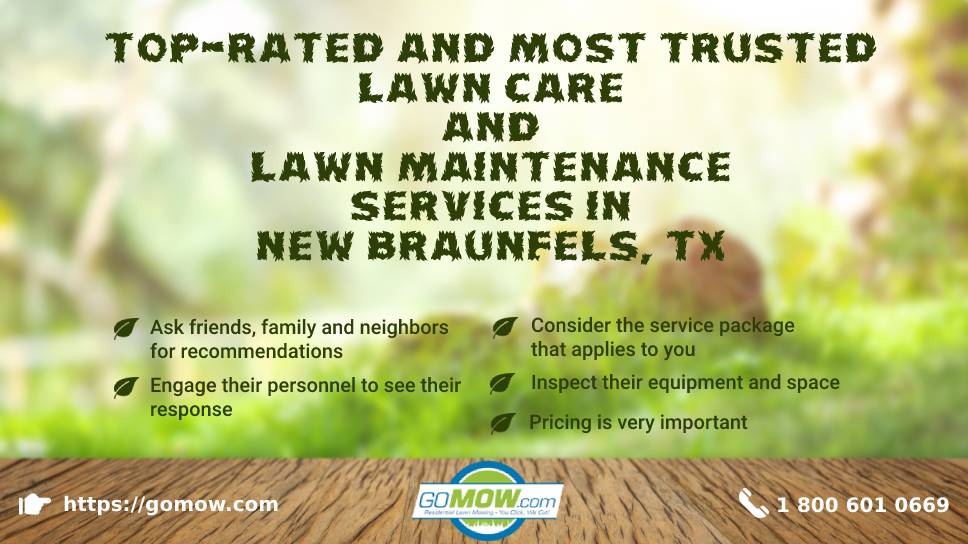 Lawn care and maintenance is an on-going practice for every lawn owner. If you own a lawn, you would likely want it to look great as often as possible. One way to make certain of this fact is by hiring professional lawn mowing services in New Braunfels, TX.
Fortunately for New Braunfels residents, there are many top-rated and trusted lawn care and maintenance services to choose from around the area. GoMow Lawn Mowing Services, New Braunfels, TX is at the top of this list by providing a trusted, professional lawn mowing package.
In this post, we have discussed the different things to look out for when hiring a lawn care and maintenance service. We believe this information will help you hire the best people to keep your lawn safe and healthy.
1.) Ask friends, family and neighbors for recommendations
A good place to start when looking for a trusted lawn mowing service is to make inquiries from people living in the area. This is very important when you're new in the area as word of mouth recommendations are quite hard to vet.
If a New Braunfels lawn service that you're considering is good, you'll hear a lot of good feedback about them which will help you make an informed decision. Alternatively, checking online boards and forums related to lawn care and maintenance can also help you.
At this point, a quick look at their reviews page can also tell you everything you need to know about their services before you decide.
2.) Engage their personnel to see their response
An important aspect to consider when looking for a trusted lawn care company is how friendly or responsive their staff is to issues. How long does it take to have them resolve customer challenges? Are they friendly or hostile? Do they take a lot of time before delivering their services? Are they dismissive?
These are some of the questions you must ask yourself as you interact with a lawn mowing company in New Braunfels, TX before you hire them. If you're okay with their engagement level, you may then proceed with doing business with them.
3.) Inspect their equipment and space
It doesn't have to be anything extra but a moderate inspection of their equipment and space can tell you whether to trust a lawn mowing service with your lawn or not. You might want to check out the condition of the equipment – lookout for rust, oil leaks, dirty equipment, etc.
If you visit their office, check out how the place looks. The state of their affairs should be an eye-opener on how your lawn yard will be managed by them when hired.
4.) Consider the service package that applies to you
Lawn care in New Braunfels, TX is the same as that found in other places. You must check out the available lawn care packages to choose what fits your lawn yard. Many lawn mowing companies offer custom lawn care plans and you can go for this option if it's more suitable.
Some of the packages also come with moderate pricing to accommodate everyone. Check out what works best for you and make your choice.
If your lawn does best with once a week mowing and watering, by all means, take up that option. Lawn care and maintenance require consistent, planned action which only a lawn company near you can provide.
5.) Pricing is very important
Most lawn care companies offer affordable lawn care services in New Braunfels, TX. GoMow Lawn Mowing is a recommended lawn service for quality but cheap lawn mowing. On visiting the GoMow website, you can enter your details to get a quote of your lawn care cost usually calculated by the size of your lawn.
However, rates might differ for custom work so it's best to get in touch to find out. You can do that by visiting our website GoMow to get started.
You can enjoy a trusted, top-notch mowing experience as a lawn owner even with a small investment. It's always best to work within your budget and keep things at your convenience.
So, there you have it, the five things to look out for when choosing a top-most and trusted lawn care service in New Braunfels, Texas.