GoMow – Best and top-notch lawn care company in New Braunfels, Texas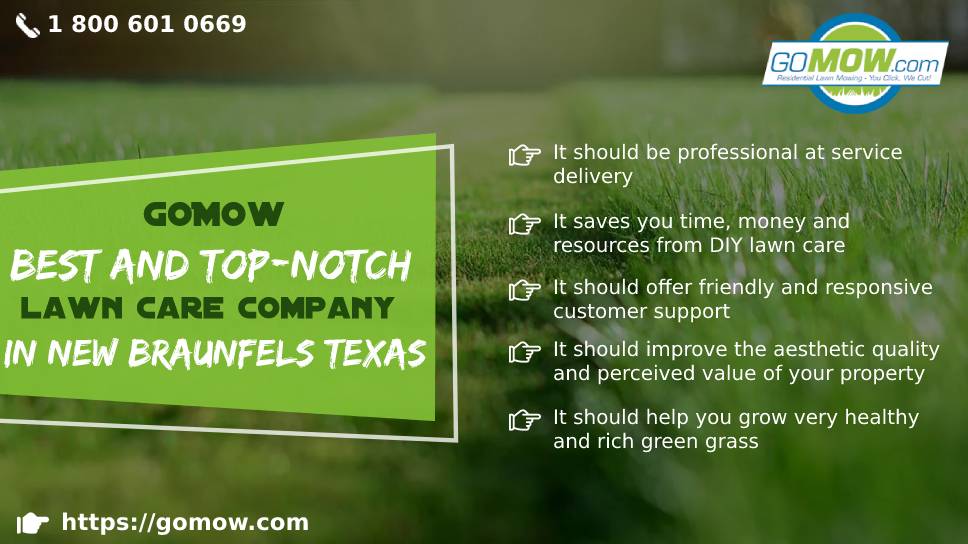 GoMow Lawn Mowing Company, New Braunfels, Texas offers one of the best and top-notch lawn services in the area. If you're a lawn owner looking to hire a lawn care service, you'll find GoMow Lawn Mowing Services to be professional and effective at handling any size of lawn.
Lawn mowing is an on-going service and as such, lawn owners need top-notch lawn care companies to handle their lawn care and maintenance. In this post, we have discussed what you should check out when looking to hire the best lawn care company in New Braunfels, Texas:
1.) It should be professional at service delivery
A top-notch lawn care company is expected to be professional in all areas, from customers service to the actual service delivery. There's no room for poor services. Staff should be friendly, supportive and fast at resolving issues. As a matter of fact, lawn care services with unprofessional delivery will lose customers after a while. It doesn't matter how affordable their services are, many lawn owner are ready to spend money to get quality work done for the.
GoMow Lawn Mowing, New Braunfels, TX offers a professional and affordable lawn mowing service that delights lawn owners. Friendly pricing, supportive staff and professional delivery are guaranteed when you hire our services. Our mowing service is carried out once or twice weekly depending on the service package you choose.
2.) It saves you time, money and resources from DIY lawn care
Without adequate experience or information, lawn care can easily go wrong. However, when you hire a lawn mowing service like GoMow Lawn Mowing, New Braunfels, you gain from their expertise and experience. This saves you the time, money and effort that could have come doing it yourself wrongly.
In short, hiring a lawn service reduces your risk of damaging your lawn.
One needless mistake could cost a lot of precious dollars to fix and to be honest, you don't need such problems. With lawn maintenance being a regular routine, lawn owners are encouraged to use a professional lawn care company to keep your lawn grass lush, green and healthy. GoMow Lawn Mowing, New Braunfels, TX offers a cheap mowing service where you can contact us at any time during the week Monday – Friday / 9-5 CST.
3.) It should offer friendly and responsive customer support
Friendly and responsive customer support can make all the difference when it comes to lawn owners sticking to a lawn mowing company. If treated right, most lawn owners will stick to one service rather than try out the many different lawn care options in town. Customers love it when they're given priority and their complaints resolved quickly.
A welcoming smile, cheerful tone, follow-ups and regular updates will make customers feel valued and part of the family. In turn, customer loyalty is assured when this is the case. Referrals, recommendations, and 5-star reviews are some benefits customers can give to the best lawn services in New Braunfels,TX.
Find out some of the rave reviews from many of our customers.
Bible Prophecy:
These guys even mow wet grass and do a fantastic job! Daniel did a great job today and Paul does great with the scheduling and they all do great all the time so thank you very much and keep up the excellent work!
Justin Weeks:
They are always on time, quick, clean and affordable. Also they respond fast to any issues, very nice office staff.
Caryn Borden:
I love Gomow. This is our second year to use them, they are affordable and very accommodating to fit me in their schedule when I need additional services or an extra mow that is not part of my regular schedule. They are prompt to answer my questions and retuning phone calls, and always follow-up to see how they did with the "extras"
John R. McMaude:
I have used GoMow for about a year and I am thrilled with the service provided at the price quoted. If there is a challenge, the staff at GoMow fixes it quickly and follows up to make sure everything was taken care of to my satisfaction. Price and service second to none.
Before hiring a lawn mowing company, we suggest you ask for recommendations about their care and maintenance history for other people. Some feedback from past customers should let you know whether to go ahead with them or not to. If they're good at treating customers great, then you can go ahead to give them a shot and see for yourself.
4.) It should improve the aesthetic quality and perceived value of your property
In general terms, some fine greenery can improve the aesthetic quality of a home. Proper lawn care can improve the look and feel of a home thereby increasing its perceived value. This can only happen when you have the best professional lawn service working for you.
If you should decide to sell the place later, you're certain to sell it at a higher figure if it has a lush, well-maintained lawn. Your lawn care service should be able to effortlessly improve your home when they take care of your lawn and landscape.
When you hire GoMow Lawn Mowing, New Braunfels, we work with you to give your lawn the best care possible. Are you a good lawn care company in New Braunfels, Texas you actually stand a chance to improve the value of their property. You'll agree that a well-maintained lawn yard can add to the beauty of a home, thereby increasing it's perceived value.
5.) It should help you grow very healthy and rich green grass
It's very important to hire one of the best lawn care services in New Braunfels, if you want healthy green grass on your property. A lawn mowing service will bring their experience and expertise to the forefront to deliver on this promise. Healthy green lawn yards are a beauty to watch and quite therapeutic to be in.
If you are the type that does communal activity like family get-togethers, you will definitely enjoy owning or having access to a healthy, green lawn yard.
Finally, consider GoMow Lawn Mowing Service Texas as one of the best and top-notch lawn care companies available. If you can spend the few bucks needed, take a tour of our online environment to see what we can do then imagine that level of responsive professionalism. GoMow Lawn Care, New Braunfels, TX can get you started with professional lawn mowing services that will improve your home value in no time at all.
Related Articles
GoMow – Best and Top-notch lawn care company in New Braunfels Texas
How to find the best grass cutting service in New Braunfels, TX