How Do I Keep My Lawn Alive In Texas?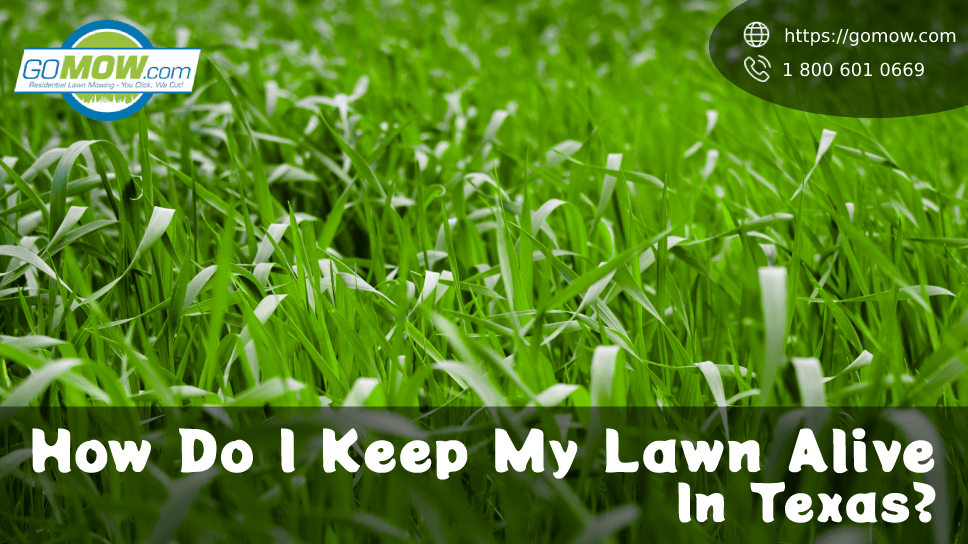 Keeping your lawn alive in Texas requires a good deal of dedication and effort. Hiring professional lawn care is a great way to ensure this. If you're looking to have a really beautiful, green lawn, there's a need to put in the required work to make it happen.
From heat waves to drought, there are a lot of things that can badly affect your lawn in Texas. The truth is our plants which include the lawn requires extra attention and care at certain times of the year. This care might mean watering deeper, cutting the lawn higher, or simply allowing your lawn to grow fully.
In this post, we have discussed what needs to be done whether you carry out DIY lawn care or prefer hiring a lawn mowing online. Let's look at these tips and how you can leverage them when you hire lawn maintenance services.
Deep, timely watering of the soil

To keep your lawn alive and green, deep and timely watering of the soil is a must. Lawns with little to no water will barely survive after a while. Many professional grass mowing services offer water as part of their services. It's important to check with your local lawn-cutting service to see how they can help with regular watering.

Watering should be done at least twice a week, up to 3 inches above soil to ensure it soaks in deeply. Take watering seriously to create a green, lush lawn yard during the hot seasons.

Mow at the right height

Considering how hot Texas can get, it's important to be careful when mowing the lawn. Mowing the lawn too low can lead to scorching from the sun. Before commencing mowing, find out the type of grass on the lawn and learn what its ideal mowing height is.

Best yet, mowing can be delegated to any professional lawn mowing service in Texas for better results. When mowing is done right, you will find out that your lawn grass will become tougher and more durable overall. It will experience better growth, look healthier and tackle pests and weeds by itself.

Above all, get in touch with a grass-cutting service to find out how they can provide your lawn with the best care. For instance, at GoMow Lawn Care Services offers cheap lawn mowing services to Texas residents.

Eliminate debris as soon as they form

Debris and other used items should be removed as often as possible. Equipment, play items, dead grass, stems, etc., don't belong on the lawn and must be removed to keep the lawn free from contamination. Vehicles shouldn't be parked on the lawn grass as the grass can get suffocated under such weight.

Remove trash, rake dead leaves and sticks and dispose of any extra items on the lawn. These items can attract insects and other pests that can harm the lawn. Browned spots on the lawn are known to have been caused by leaving debris on the lawn. Stunted growth, which is another issue, can happen due to leaving heavy equipment or shade on the lawn.

Therefore, it's important to remove items, litter, and dirt from your lawn as soon as possible to keep it healthy. If you'd love to experience the best affordable mowing service in Texas, we are available for you at GoMow Lawn Care, TX.
Contact us today to get quality lawn care and mowing that will keep your grass healthy, green, and neat all year long. Visit our website to get your free mowing quote right away.
Start here >> www.gomow.com.