Prepare your lawn for the spring season in San Antonio TX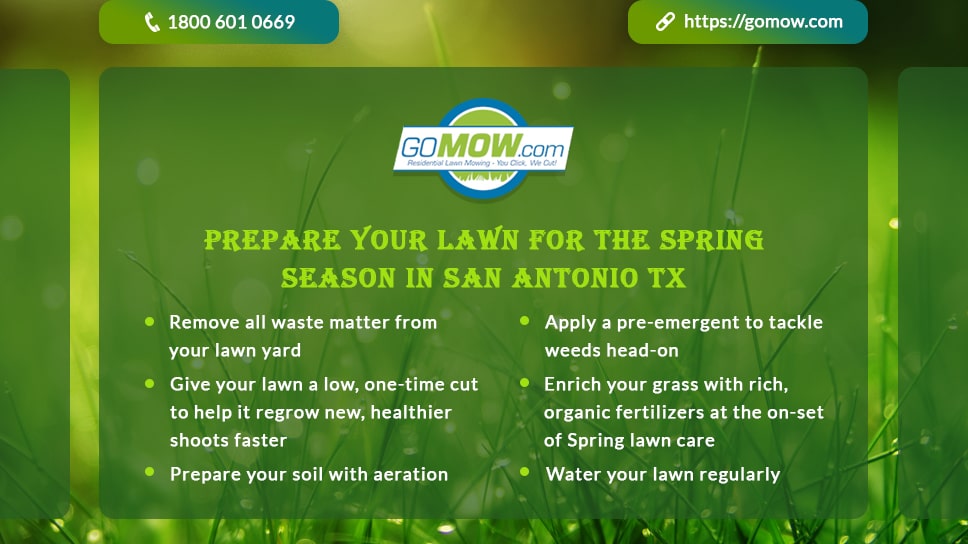 With spring coming after winter's usual long spell, it's time to grow your grass for the new season. Though lawn care is the same in many aspects regardless of the season, there are still minute differences you must be aware of to give your lawn the best care.
For spring lawn care in San Antonio, Texas, we have listed out the following steps to guide you when hiring for a lawn service in San Antonio.
Remove all waste matter from your lawn yard

Debris and other waste are most likely going to do the surface of your lawn yard after winter. These materials if left on your lawn for much longer can cause problems for you. Debris can cause decay, attract pest and parasites as well as cause an unhealthy environment.

Debris and waste removal is strongly advised as the first step in spring lawn care. Ensure it is done whether you are hiring a lawn care company in San Antonio or handling your lawn care your way.

Prepare your soil with aeration

Lawn soil can easily become clogged up after winter so it's important to loosen up your soil in spring. This can be done through aeration which basically involves plugging holes in the soil to loosen the clumps and facilitate air and nutrient movement.

The aeration process itself isn't difficult but can become tiresome or boring if you are doing it yourself on a large lawn.

To get started, you will have to buy or rent an aerator for this purpose. Most DIY lawn owners would rather rent an aerator than buy one considering the cost and specialist care the equipment might need.

Shovels, pitchforks, and trowels can be used as alternative aeration tools if the lawn yard in question isn't large.

For best results, GoMow's professional advice remains the same – hire a lawn maintenance service in San Antonio, Texas. This will cost you less and you will be getting your spring lawn care done by people who most likely know what they are doing.

Water your lawn regularly

Regular watering is necessary to prime your lawn yard for the new planting season. You might consider installing a sprinkler system on your lawn if you have a large expanse to cover.

A sprinkler system will save you money, time and effort required to manually do it yourself or hire someone to do so.

For smaller lawn yards, you can afford to do-it-yourself without much difficulty. The rule of thumb when it comes to watering is to ensure the water is covering your earth by at least an inch after the activity.

In addition, the best time to water your lawn is in the mornings and evenings when the temperature is low and evaporation is less. Consider GoMow Lawn Mowing, San Antonio if you are looking for a professional local San Antonio Lawn care service.

Enrich your grass with rich, organic fertilizers at the on-set of Spring lawn care

Fertilizer application as spring picks up can give your grass the boost it needs to grow optimally during the year. Of course, not all fertilizer types are recommended for this. For best, long-lasting results, it is recommended to use organic, nitrogen-based fertilizers.

This fertilizer type contains organic components that break down completely in the soil, delivering rich nutrients to it and leaving no toxic traces behind. When done right, fertilizer application will help your grass grow thick, green and healthy.

GoMow's affordable lawn care service in Texas comes highly recommended on suggestions to get started.

Apply a pre-emergent to tackle weeds head-on

It is quite normal for weeds to take root in your lawn yard along with your grass. Not only do they compete directly for food and nutrients with your grass causing problems, but these pesky plants are also unsightly and spoil the uniformity of your lush, green lawn.

Applying pre-emergent solutions can serve as effective preventives against weed infestation because it kills the weed seedlings even before they germinate to cause problems. Consider this step a necessary one for effective spring lawn care in San Antonio, Texas.

Give your lawn a low, one-time cut to help it regrow new, healthier shoots faster

Also known as Scalping, consider having your lawn grass mown very low, exposing it to the roots. This practice has been found to be very helpful in growing out a lawn with new, healthier, and fuller green grass ready to take on the challenges of the lawn care season.

In addition to mowing the grass low, it also helps to bag all grass clippings leaving your yard free of their clustering. When done right along with other spring lawn care techniques, your lawn will have more room to grow optimally to their best state.
Would you love highly effective, professional but cheap lawn care services in San Antonio, Texas? GoMow Lawn Mowing Services, Texas is only a call away; call us on 210-591-1667 or contact us via e-mail on info@gomow.com
Alternatively, you can visit our website here: www.gomow.com for a custom quote on your spring lawn mowing needs.
Related Articles
10 Things Before You Choose Lawn Mowing Service For Spring Season In San Antonio, TX