Lawn Mowing tips that improve your lawn and life in Austin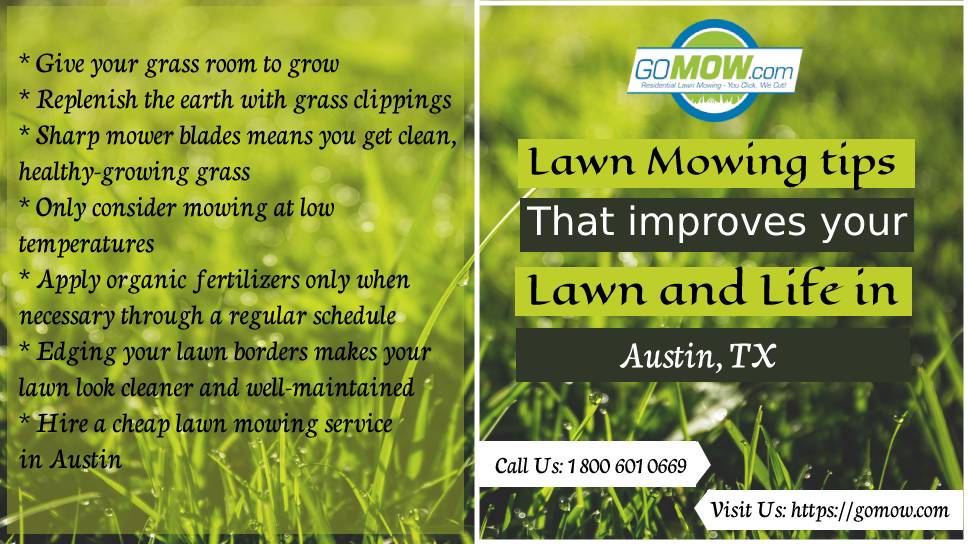 Our experience as one of the best lawn mowing services in Austin TX, has given us a greater perspective on the best tips that improve your lawn and life. At GoMow Lawn Mowing Austin, we have had the pleasure of putting these lawn care tips into practice for several lawn owners.
If you own a lawn or plan to own one in the nearest future, you will find these tips helpful when hiring Austin lawn care.
Give your grass room to grow

Mowing is great and remains one of the ways to get your lawn yard looking green and clean. However, when overdone, it can be detrimental to the sustained health of your lawn. It is often advisable to allow the grass on your lawn to grow out a bit before you commence mowing.

Grasses that are maintained this way sink their roots deeper in the earth and become more resilient in the event of damages of any form. Full, thickly growing grass has better metabolism and has a natural ability to keep weeds away.

When mowing is necessary, consider doing that once a week, and at the right mowing height of one-third the length of the grass.

Replenish the earth with grass clippings

Bagging off grass clippings after mowing is often the norm, but it isn't the best. It's proven that leaving grass clippings on the lawn after mowing is an effective and natural means of adding organic nutrients to the soil.

This practice is also known as grass recycling, and fortunately, lawn care services in Austin carry it out. Grass clippings have a lot of nutrient content that is valuable to the grass as they decompose on it. Ensure your Austin lawn mowing service choice does this routinely while handling your mowing.

Sharp mower blades mean you get clean, healthy-growing grass

A bad lawn mower is not only bad for business, but it could also mean the difference between a green, healthy lawn and a poor, sparsely-growing lawn. Lawnmowers are best used with sharpened blades for an easy and effective mowing experience.

Sharp blades cut through the grass stems cleanly, leaving no rips and tears that look ragged and make the grass susceptible to disease infection. To lawn sharpen your lawnmower blade, consider getting GoMow lawn service Austin TX to do that for you.

Absolute care must be taken to avoid getting hurt. Turn off the mower from power and follow the user manual if you are a keen DIY person. Sharpening should be carried out at least twice during the lawn mowing season.

Only consider mowing at low temperatures

It isn't advisable to mow when the sun is well up and at its zenith, blazing hot. The ideal way to go about your lawn mowing is to mow early before the sun is up or late when it sets. Alternatively, if you have a shade of some sort, you can arrange your mowing sessions under it to avoid heatstroke and stress.

Engaging a lawn mowing service in Austin will save you the effort and stress that might come with mowing your lawn yourself. GoMow offers lawn owners an affordable lawn mowing package that is budget-friendly.

Apply organic fertilizers only when necessary through a regular schedule

Over time, your lawn is bound to experience nutrient depletion to a certain level. It is up to you to have a fertilizer application schedule in place as a lawn owner for this occurrence. Organic fertilizers are the recommended choice here because they are completely bio-degradable and leave no toxic compounds in the soil.

Work closely with your preferred professional lawn mowing service to ensure the best possible fertilizer is used on the lawn. Be on the look-out for fast-growing or slow-release fertilizers depending on the result you want on your lawn yard. Instruction manuals should be read and adhered before use.

Edging your lawn borders makes your lawn look cleaner and well-maintained

Lawn mowing isn't just about cutting the grass low. It includes edging and creating borders on your lawn yard to have an aesthetically-looking landscape. When done right, you will find your lawn more pleasing both to look at and to be on.

In addition, edging and creating borders on the lawn makes mowing easy and faster. Do you a need beautifully-edge lawn? Contact GoMow Lawn Mowing Service Austin TX.

Hire a cheap lawn mowing service in Austin

Cheap doesn't often mean poor quality, and in this case, you can enjoy a professional lawn mowing service even at a low budget. GoMow Lawn Care Austin TX offers a perfect lawn mowing package for Austin lawn owners.

A major advantage of hiring a lawn maintenance service is that it saves you time, effort, stress, and the cost of making mistakes if you handle your lawn care by yourself.