How Much Does It Cost To Cut Grass In San Antonio, TX?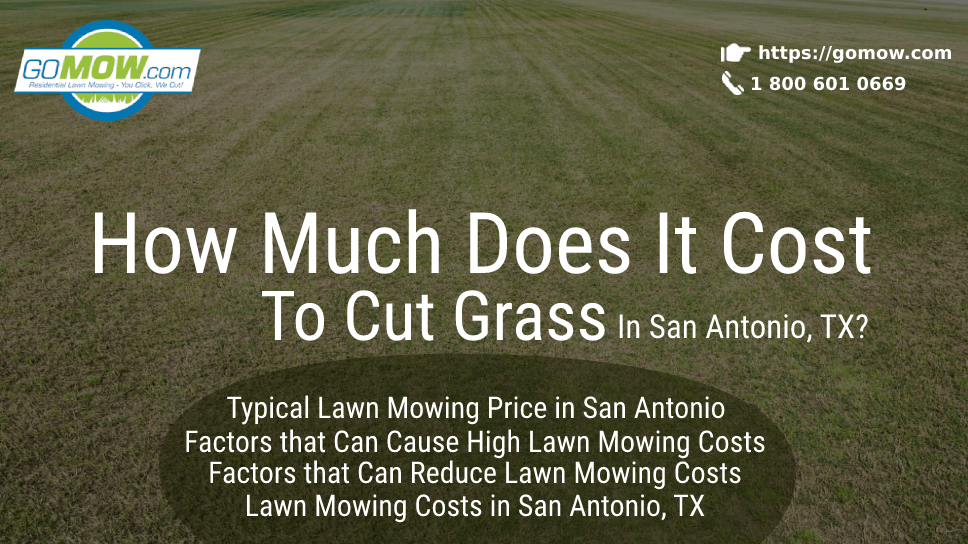 As an owner of a home that has a lawn yard, cutting your grass is a task that cannot be avoided. Right now, it's time for spring lawn care in San Antonio, TX which means you must have your budgeting costs in order. In addition to this, it's important to hire the right lawn mowing service in San Antonio so you don't waste money with poor lawn mowing.
GoMow Lawn Mowing, San Antonio, TX offers a professional lawn mowing service that is affordable and within the reach of most lawn owners. In our experience, we have worked with so many different clients and know exactly what you need when you are looking for affordable lawn care costs.
In this quick guide, we have discussed how much it costs to cut grass in San Antonio, TX, and what you should expect when you hire a lawn mowing service in San Antonio, TX.
The first thing to look out for when hiring lawn care in San Antonio is to be certain that the lawn care company is fully licensed and insured to provide grass-cutting services. This is important as it can save you from a whole world of hassles if you get it right.
Any company you are looking to hire should be properly certified, licensed, and insured to offer lawn mowing to residents in the San Antonio area. Not only will this help you not to break the law, but you'd also be covered in a case where your lawn yard gets damaged or there's an injury to a person. Insurance can easily kick in to reduce some of these unexpected costs.
Typical Lawn Mowing Price in San Antonio
The price of lawn mowing is mostly determined by the size of the lawn yard. While small lawns can cost from $19 to as high as $50, large lawns can cost anywhere from $50 to $480 or more. Mowing can also be charged per hour depending on negotiations.
At GoMow Lawn Mowing, San Antonio, TX, we offer a FREE QUOTE where we can estimate a suitable cost for your lawn mowing task.
On average, if you hire a retainer service, you will get more value for your money, compared to paying on a monthly subscription basis. To get started on our lawn mowing service plans, visit https://gomow.com/service-areas/san-antonio/ to book a Free Quote estimate for San Antonio lawn mowing, TX.
Factors that Can Cause High Lawn Mowing Costs
When you are looking to pick an affordable lawn mowing cost, there are certain factors that you must take into consideration seriously. These factors will determine how costly your San Antonio lawn mowing cost will be.
Having an unkempt, overgrown lawn yard
A lawn on difficult terrain or landscape
Insisting that a lawn company use your own equipment which could be poor
Too many obstacles on the lawn
Large lawns that simply costs higher
These factors will influence the cost of mowing your grass regardless of the size of the lawn yard.
Factors that Can Reduce Lawn Mowing Costs
For lawn yard owners who are looking at getting affordable lawn care costs, these factors will determine how possible this can be:
Having a small lawn yard
Open and flat specious land
Close to the metropolis but far from the noise
Hire a lawn mowing retainer service
Only lawn mowing requirements needed
Lawn Mowing Costs in San Antonio, TX
At GoMow Lawn Care Service, TX offers a professional lawn cutting service that will put your grass in the best shape of its life. If you are looking for affordable lawn mowing costs that are within your budget, we offer wallet-friendly lawn mowing that will stand you apart from the competitor.