Get The Top-rated Lawn Care And Grass Cutting Services In Richardson, TX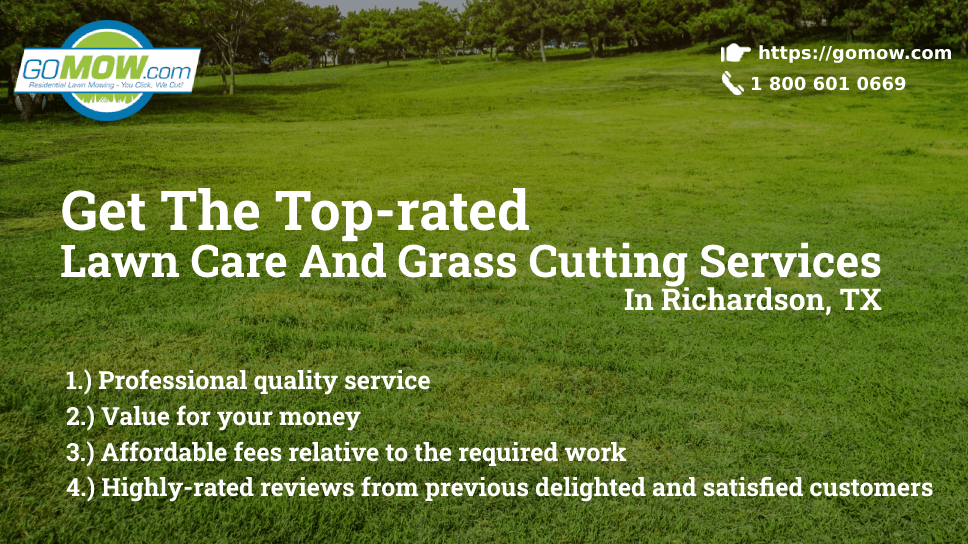 Enjoying the services of top-rated lawn care and grass cutting service in Richardson, TX should be the ideal expectation of every residential lawn owner. With the winter season in full swing, hiring a lawn service in Richardson, TX is your best bet to keep your lawn yard in great shape until spring.
The benefits of hiring lawn care and maintenance in Richardson on a retainer are diverse. In this post, we have discussed these benefits in greater detail. If you are a busy homeowner with little time for lawn care by yourself or perhaps you lack the necessary experience for it, we recommend getting top-rated lawn care and grass cutting service in Richardson, TX.
Here's why:
Professional quality service

We are one of the most professional lawn mowing services in Richardson, TX. And not just that, we offer cheap lowing mowing services. Customers who use our Richardson lawn cutting service get to experience professional treatment and affordable lawn care.

Whether you are engaging us for a one-off service or on a retainer service, GoMow Lawn Mowing, Richardson aims to deliver lawn care of the highest standards available. We believe in putting our customers' needs first at every point in time.

Value for your money

When you hire top-rated lawn care and grass-cutting service, you get to enjoy maximum value for your money. At GoMow Lawn Mowing, Richardson, TX, we don't just offer grass cutting as a service. We offer a chance to build a relationship with a Richardson lawn care provider that cares for the welfare of your lawn yard. During the cause of mowing your lawn, our personal can inspect your lawn visually to notice when something isn't right and call our attention to it.

If your lawn grass is having problems, we would be the first to know about it. GoMow Lawn Mowing, Richardson, TX understands the importance of having a well-maintained, healthy lawn yard and we'd do our best to give it the best care always.

Affordable fees relative to the required work

Unlike some lawn companies in Richardson, we have made our lawn mowing fees cheap relative to the size of the lawn to be mowed. We offer a free quote that helps calculate your fees as minimally as possible.

Typically, large lawns will cost around $50 for mowing while smaller lawns will cost approximately $30 for mowing. Custom pricing is also available if you'd rather use the lawn price calculator.

Our customers are guaranteed to get as much value as possible for their money. You will save more money and enjoy a professional lawn maintenance service when you hire GoMow Lawn Mowing, Richardson, TX.

Highly-rated reviews from previous delighted and satisfied customers

Feedback from past and previous customers speaks for us. We go above and beyond to ensure that customers are happy with the service rendered.
GoMow Lawn Care Service understands that customers are different just like their expectations. When we work with you to care for your lawn, you are simply getting one of the best lawn care services.
In conclusion, we are a top-rated lawn care and grass cutting service in Richardson, TX. Our commitment is to take care of your lawn mowing problems in no time at all.
If you are looking, to begin with, lawn mowing in Richardson, visit our website right away to book a free quote.
Related Articles
Know how a Healthy Lawn Benefits Your Lifestyle in Richardson, TX