Exactly When To Plant Grass Seed In Spring In San Antonio, TX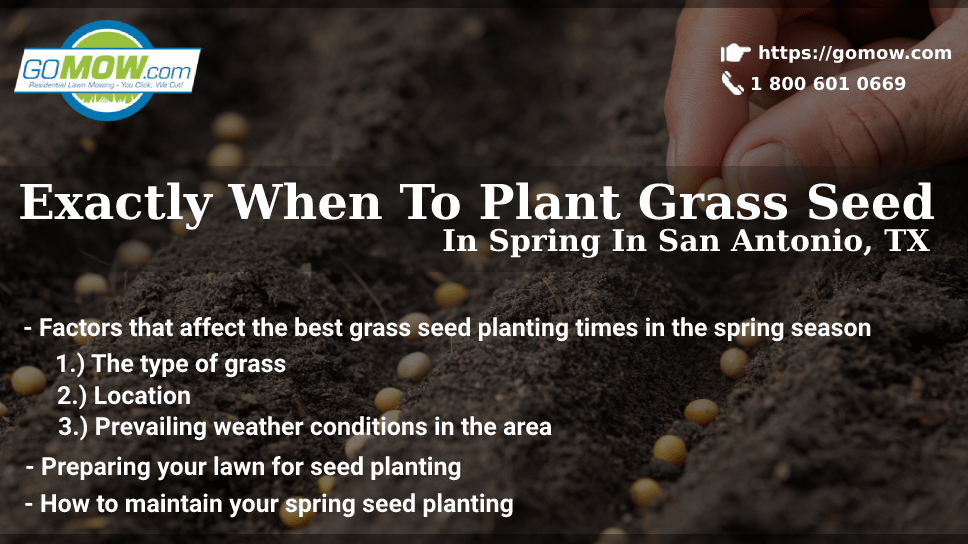 Are you looking to revamp your lawn in the spring season? Or perhaps you're looking out for the best time to plant grass seeds in spring in San Antonio, TX. If this is the case, then you're in the right place as this post explains the best time to plant your grass seeds in the spring season.
The first thing you have to understand is that planting grass seeds will lead to a healthier and fuller lawn yard. It will also improve the appeal of your home, especially where outdoor activity is concerned. Lawn services in San Antonio offer a variety of lawn care practices known to give grass lawns the best chance of growth and development.
It's important to note that there is a science to planting grass seedlings in order to get maximum results on your lawn. The best way to go about this while ensuring success is to hire lawn care in San Antonio to handle the seeding process. Their experience and expertise in caring for the lawn put these lawn service professionals head and tail above any DIY service you may have in mind.
First, we have discussed the factors that affect the growth success of seeds and the best time to plant your seeds in spring. Read on below:
Factors that affect the best grass seed planting times in the spring season
As already mentioned, planting seeds can be affected by a number of factors. Expecting the best results when adequate care hasn't been taken is an effort in futility. To make sure that you get your grass seed planting right, please consider these factors listed below:
The type of grass

The type of grass being planted by your lawn maintenance in San Antonio can make all the difference. Warm-season grasses respond differently from Cool-season grasses. Planting a Cool-season grass in a warmer climate will yield poor results.

Similarly, planting Warm-season grass in a cooler climate won't turn out great too. Therefore, to get the best yield, we advise planting the right grass type in the right climate. Grasses like Bermuda grass, St. Augustine grass, Zoysia, etc, perform great in warm temperatures.

Meanwhile, cooler climates do better with Cool-season grasses like Kentucky bluegrass, fine fescue, and Tall Fescue.

Location

The specific location where the lawn is determines the exact time to plant the grass seeds. In San Antonio for instance, it's best to plant your grass in late spring or early summer. Of course, this timing will vary in different locations so it's important to check with a local lawn mowing service in San Antonio, TX to know when it's best.

Prevailing weather conditions in the area

The weather condition of your area will determine when you should plant your grass seedlings. If there's heavy rain or scorching sun, picking a convenient time to plant the grass seeds is important. Light rainy conditions are generally great. Windy conditions can scatter the grass seeds all over the place. However, if you want to get grass seed planting right, hiring professional but affordable lawn care in San Antonio will yield better results.
Preparing your lawn for seed planting
As much as timing is important when it comes to planting your grass seeds, preparing your lawn for the process is also important. Below, you find some steps to take to ensure success during grass seed planting in the spring season.
Grade the lawn properly to ensure it has a uniform level for the new lawn care season. You can hire a lawn service for grass cutting for this in San Antonio.

Take care of bald or dead spots on the lawn using new topsoil and fertilizer to prepare the affected area.

Inspect and test the soil to identify any problems and fix them while there's time. Check for soil pH, soil texture, structure, etc.

Aerate the soil to encourage the permeability of nutrients and other essential resources in the soil. A pitchfork, garden trowel, or some other piercing garden tool can be used for this. For larger lawns, your hired lawn care in San Antonio can use a mechanized aerator for this process.
How to maintain your spring seed planting
When you're done with planting your grass seeds in spring, the next step to consider seriously is maintaining the seeds to ensure that it grows and develops into a full, healthy green lawn. Here are some suggestions to consider:
1.) Give it time and let the grass seedlings germinate fully. You've done your but by hiring the best lawn maintenance in San Antonio to plant your grass seeds, at this point, you can rest easy and let nature do its work.
2.) Introduce light watering if there's no rain during this period. Be careful not to flood the lawn.
3.) Don't mow the lawn yet and allow the grass to get to as high as 3 inches at least before first cutting.
4.) Watch and observe patiently.
Final Words
If affordable lawn care in San Antonio is what you're looking for, you are at the right place when you hire GoMow Lawn Care Service, San Antonio. We offer an experienced and professional lawn mowing service guaranteed to keep your lawn in the best shape possible.