14 Beautiful Flowers And Vine Plants To Add To Your Garden In Texas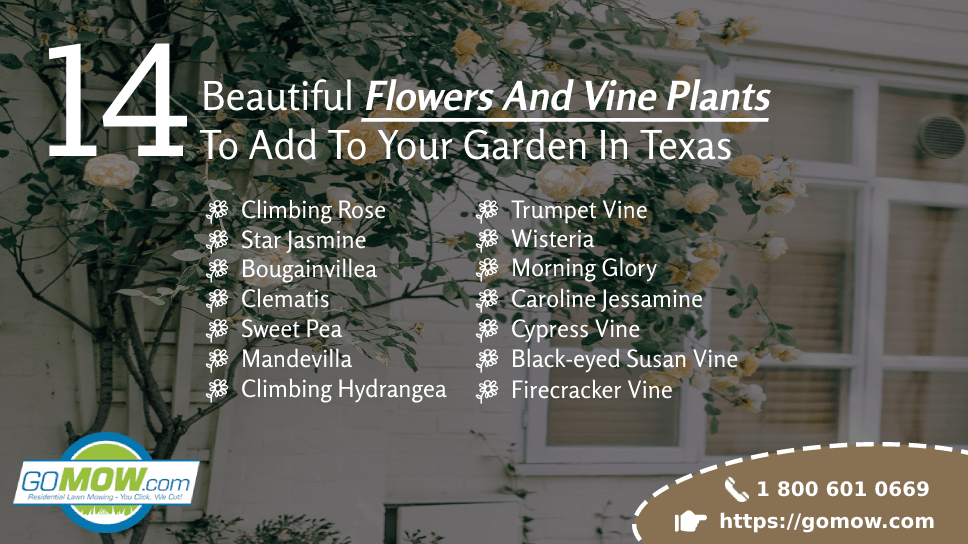 Are you looking to improve the look and feel of your garden? Then look no further because in this post, we've discussed 14 beautiful flowers and vine plants for any garden in Texas. They're beautiful and can transform even the smallest garden to paradise when planted right!
Here are the 14 of the best flowers and vine types for your garden in Texas:
Climbing Rose

This type of rose is very lovely to see on your fences. They're not vine plants in the exact sense of it but grow like one. Most Climbing Roses have sweet scents and bloom on and off or just once through the year. Your garden will look wonderful with this beautiful flower growing among your plants.

Star Jasmine

Star Jasmine is a soft-looking perennial vine plant that has creamy-white star-shaped flowers that smell so sweetly. It also looks great on a wall or fence and will transform any home where it's planted. Their gorgeousness and pleasant scent are unmatched and will improve any garden in Texas.

Bougainvillea

Bougainvillea is a beautiful pink-purple perennial vine plant that grows beautifully on walls and fences. It grows beautifully in almost any weather all year long.

Clematis

Clematis comes in different forms. This beautiful purple-blue range vine can bloom all-season or in early spring or fall. It depends on the variety you come across. If you want something different, consider planting Clematis in your garden.

Sweet Pea

Sweet peas are beautiful, delicate flowers that have a soft scent and come in different colors. It can be blue, white, pale pink, or even purple. Sweet peas are affected by hot weather so only consider them if you have low or moderate sunlight.

Mandevilla

The beautiful pink, red or white blossom named Mandevilla is a flowering vine plant that loves hot weather. If you're in a sunny climate then Mandevilla would be a good option for your garden. It sheds daily as it grows and can last throughout summer.

Climbing Hydrangea

Climbing Hydrangea loves shade but offers beautiful creamy white flowers all through summer. It grows with heavy vines and requires stronger support to climb and grow on. It's a beautiful flower that can enhance the look of your garden as soon as it's properly established.

Trumpet Vine

This gorgeous orange bloom is a perennial that can last all season long without issues. It grows really fast and loves the sun. If your garden needs a quick touch up of beautiful flowers, the Trumpet Vine is usually a perfect fit.

Wisteria

Wisteria is a beautiful lilac-blue draping flower that smells sweetly and grows great in cold places as long as there's full sunlight. It's a perennial which means it can grow in any place. If you're looking for something different, Wisteria is the way to go for your garden.

Morning Glory

As the name implies, it opens up in the morning and closes by day end. It's a beautiful bloom to have in your garden and grows every year. It usually self-sows so it's best to pick off the dried seeds as they drop to avoid this.

Caroline Jessamine

Caroline Jessamine is a beautiful, bright yellow flower with a lovely fragrance. It's a fast-grower that requires full sunlight and blooms mostly in early spring and sometimes in fall depending on the variety.

Cypress Vine

The beautiful Cypress Vine is a delicate, sweet-scented bloom that grows really fast. Colors include red, pink, and apricot. It's sun-loving and grows beautifully on a fence or wall. If you love birds in your garden, this beautiful flower is a magnet for hummingbirds.

Black-eyed Susan Vine

Black-eyed Susan Vine is a bright annual vine that has yellow, white, pink, or apricot blooms. It grows well in hanging baskets, fences, and pots. In hot climates, it grows as a perennial vine plant and enjoys full sunlight.

Firecracker Vine

A rare annual vine that is almost perfect in all aspects – it is heat and drought resistant and hummingbirds love it. The Firecracker Vine loves the sun and blooms all through summer. In some climates, it's considered an annual while in others, it can survive as a perennial.