Texas Lawn Care Options for your lawn and garden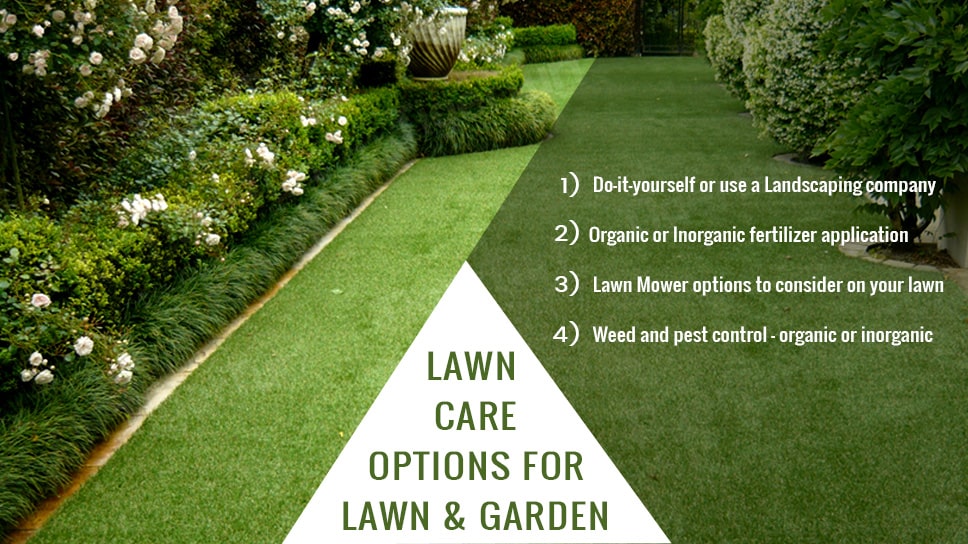 To an extent, it can be said that having a lush, green lawn is almost a status symbol. It portrays a lot of owners as family-oriented, earthy people who are in tune with Mother Earth. This might sound somewhat dreamy or poetic but you will agree with me that people who own beautiful lawns just have this unique air about them especially if they are passionate about it.
As a lawn owner, you need to know and implement the best lawn care tips and options to ensure your lawn is in the best state at all times. In this post, we will discuss the best Texas lawn care options for your lawn garden.
Your landscape and lawn should be at its best always and we will help make this a reality. Read on below to learn more.
Do-it-yourself or use a Landscaping company

There are several pros and cons of doing your lawn care yourself or using lawn mowing service near you. If you must do your lawn and landscape care yourself, you must have the expertise to do a good job of it.

In addition, you must have the time to follow a lawn care schedule for best results.

The advantages of doing it yourself include being able to save money without having to pay a lawn service and doing exactly what needs to be done without the risk of miscommunication.

The cons include not having the skill to care for your lawn or garden properly, missing out on your lawn care schedule, erroneous practices etc.

If you choose to go with any of the landscaping Company in Round Rock, Texas then you can count on enjoying the highest level of professionalism when they work for you.

The major worry most lawn and landscape owners have is being able to handle the billing that comes with the service long term.

In all, use a professional Round Rock landscape service if you have a large garden but do it yourself if you have a compact lawn yard and enjoy garden and lawn care.

Organic or Inorganic fertilizer application

One of the debates on Texas lawn care options is the use of organic or inorganic fertilizers on your garden or lawn. Inorganic fertilizers can be super-fast in yielding the results you need on your lawn.

The question is, at what cost?

Most inorganic fertilizers contain toxic non-degradable compounds which cause harm later in the future. During heavy rains or flooding, some of these compounds can leak down into the waterbed under the earth while others run off into lakes and streams polluting the water body and contaminating the living things in it.

Remnants of such toxic compounds on the grass have been known to affect children or pets playing in the lawn.

The best lawn care tip for Round Rock citizens and lawn owners everywhere is to fully organic. There a lot of amazing organic fertilizers out there that can give very fast-action results when you use them on your lawn.

Organic fertilizers are full of nutrients and minerals that are nutritious and healthy for your grass. Also, these organic fertilizers are environmentally-friendly, unlike the inorganic types.

Lawn Mower options to consider on your lawn

The type of lawn mower you have as a lawn owner depends on two things. One, if you plan to do the lawn mowing or garden maintenance yourself and two, whether you have large lawn yard or a small one.

Smaller lawn yards means going for a portable lawn mower. A large garden means going for a tractor-type lawn mower that can be driven around.

On the other hand, if you are engaging a lawn care service to handle your lawn yard, then you may just have to go for any mower type that appeals to you without being too particular.

For the best information on the mower type to use on your property, consider consulting with one of the professional landscaping Company Round Rock for more information.

Weed and pest control – organic or inorganic

Just as everything inorganic can cause problems even though they yield faster results, the organic options are better in the long run. For weed and pest control on our lawns and garden in Round Rock, the better option is to go organic.

There are several ways to apply organic weed and pest control. Every practice is proven to have a harmless impact on the environment.

For weed control, options include reseeding for fuller growth, pulling out large weeds by hand or transplanting and applying anti-weed agents directly on the weeds.

For pest control, organic options include setting traps, applying diatomaceous earth, pepper and other natural-occurring compounds that are bio-degradable.

Caring for your lawn and landscape doesn't have to be costly to either your pocket or the environment when the options above are followed judiciously.

For professional assistance in caring for your lawn or garden, click below & get in touch with GoMow lawn care Round Rock today!