Tired of DIY Lawn Mowing? Don't sweat it, GoMow is here.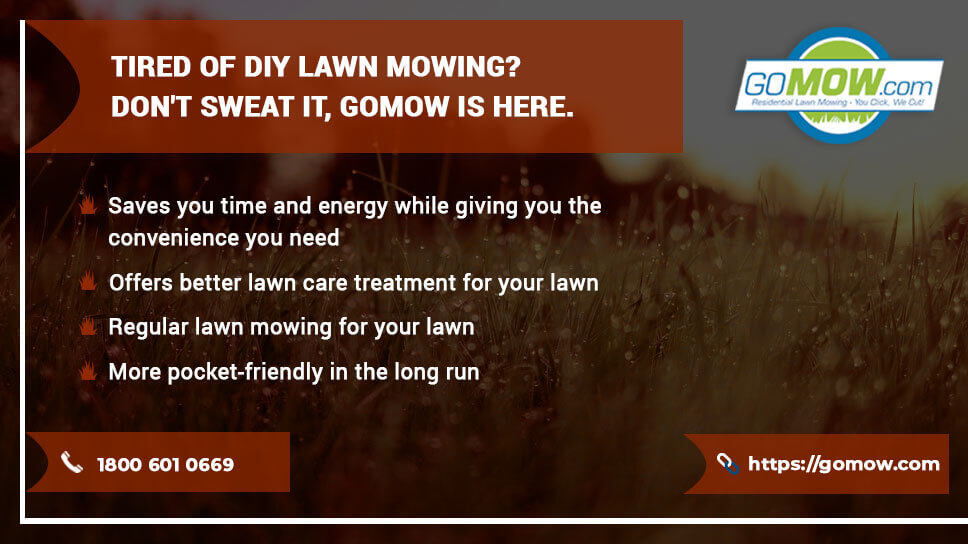 We get it! DIY Lawn Mowing can be quite hectic at times. With pushing the lawn mower around each time, your grass needs a trim and what-not. Busy lawn owners don't often have the time to care for their lawn, and those that do would prefer to avoid the physical exertion and sweating that comes with mowing.
Thanks to GoMow Professional Lawn Care, you can say goodbye to those uncomfortable lawn care tasks you have to handle in DIY lawn care. At GoMow Lawn Mowing, we offer a cheap lawn mowing services that is professional and delivers exactly what you need.
In this post, we have discussed several reasons why should consider using a professional lawn care provider like GoMow lawn mowing instead of a DIY lawn service.
Saves you time and energy while giving you the convenience you need

The world is becoming more automated by the day and, if we hum ans can help it, we want the best ways to avoid stress and enjoy more convenience. DIY lawn care comes at a certain cost in terms of time, energy, and experience which you as a lawn owner might not be able to afford always.

Hiring a GoMow lawn care Dallas saves you from the stress and time investment so you can focus on other important areas of your life. In our expert opinion and without bias, hiring a lawn mowing service gives a lawn yard its best chances of growing healthy long into the future.

You may not always have the discipline to follow or maintain your lawn mowing schedule when it is mowing time. When you hire Lawn Service Dallas like GoMow Lawn Mowing, you also save yourself the responsibility of doing the dirty work involved.

Offers better lawn care treatment for your lawn

By virtue of their experience and training, lawn care service providers are more suited to taking care of a lawn yard than most owners would ever be. Hiring one means you get to take out the guesswork from your lawn care. It saves you time and costly mistakes that you might make while carrying out DIY Lawn care.

Fortunately, GoMow Lawn Maintenance Dallas offers one of the best professional lawn maintenance services in Texas. We provide professional lawn service in Dallas and the rest of Texas, 6 days a week excluding Sundays.

If you are tired of DIY lawn care, contact us right away via our website to book a quote. You may also take a slight tour of our website's review section to see what our customers have to say about our services.

Regular lawn mowing for your lawn

The recommended mowing frequency for most lawns is at least once a week. Few lawn owners can keep up with this schedule when practicing DIY lawn care. It can even be far less for career people who own lawn.

In most cases, such lawn owners are likely to end up with an unruly growth of vegetation on their lawn yard. Hiring a lawn care company is cheaper in the long run and will provide regular mowing sessions for your lawn yard when it is needed.

It must also be mentioned that lawn yards that are mown regularly are prone to grow greener, fuller and healthier than lawns that are not always attended to. GoMow Lawn Mowing offers a weekly and biweekly lawn mowing service for clients.

Pricing is dependent on the sizes of the lawn; small lawns cost $30 while large lawns cost $50 for each mowing session respectively. Alternatively, lawn owners can go for a custom quote which can be determined by a number of variables.

To get started with GoMow Lawn Care Service Dallas TX, visit our website here – www.gomow.com.

More pocket-friendly in the long run

While going for DIY lawn care may seem quite cheap in the beginning, it can become expensive over time. You will have to buy some lawn care equipment, do repairs on them, spend precious time you could have channeled into income-generating ventures, and likely make mistakes that will cost money to restore.

In the end, you are likely to find out that engaging a professional lawn care service is not only more convenient but is actually more cost-friendly. A typical lawn aerator will put back by some serious dollars; meanwhile, if you hired a lawn mowing service, they could come with theirs or hire one to aerate your lawn yard.

Similarly, it's easy to make lawn mowing mistake when following DIY lawn care. These mistakes will happen often times becomes you are either inexperienced, lack enough information or negligent. The result might be to restore the lawn yard completely, and a typical lawn restoration service doesn't come cheap in any way.