Texas lawn mowing services Trends for 2018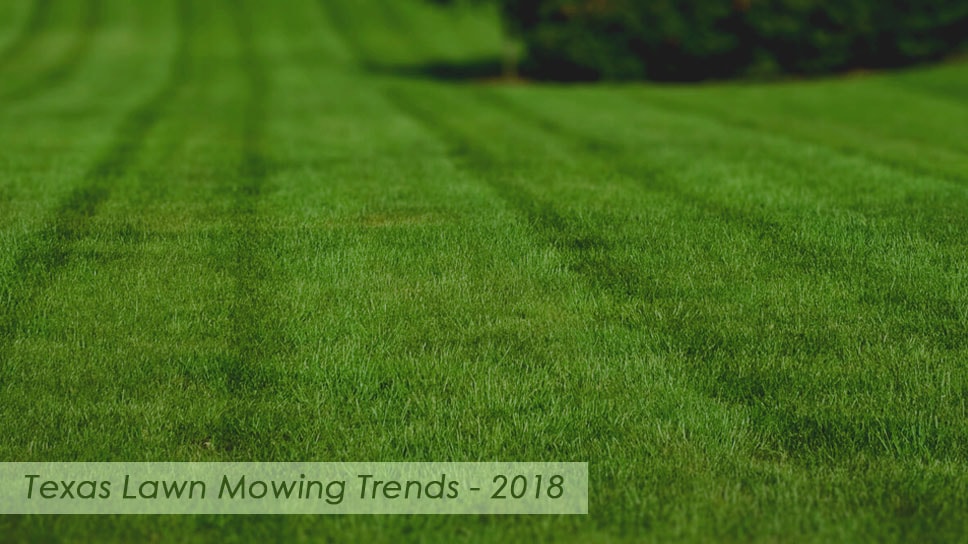 Just like in any other industry, the Texas lawn mowing industry has different trends associated with it on a yearly basis. Lawn mowing trends refer to on-going updates in the lawn care industry. It involves all updates in equipment, technology, practices and customer service delivery processes provided by lawn services Texas.
Texas lawn mowing trends provide you with improved insight on what you need to know either as a lawn owner or a lawn mowing service. As a lawn owner, you should look out for services that provide the exact service you want, have great reviews, are customer-friendly and responsive in handling your requests etc.
As a lawn service provider, lawn mowing trends will help you stay updated on the latest occurrences in the industry and how to stay competitive in the industry without being left in the dust.
As it stands, lawn service trends also concern all predictions and expected results currently being put to use. As a lawn owner, it is important to know and follow these trends so as to give your lawn the best care possible.
There are several trends now available in the lawn mowing industry that you can follow to take care of your lawn. Some of these lawn mowing services trends include the following below:
Use of equipment with improved technology

If you are a lawn owner or lawn service Texas provider, it is worthy to note the place of new equipment and technology in lawn mowing. Technology keeps evolving and it will be in your favor to find out the latest developments in lawn mowing technology. Having information on this will put you in a better position to take better care of your lawn as soon as you get such equipment and put it to use.

Leveraging on improved technology will keep you in top competition with other industry rivals so you can stay ahead of the pack. New technology means improved processes and faster service delivery when you handling your lawn mowing routine.

Improved Customer Care Relationship

How well you treat your customers has a deep influence on whether they return or not. In the lawn mowing industry in Texas, competition is stiff and there are quite a number of professional lawn-mowing providers available to attend to the various needs of customers.

Irrespective of your location, whether you a lawn mowing Austin service or a provider from Dallas, it's important you offer an improved customer care routine. An ideal customer service routine should win businesses, retain customers and build trust for repeat business.

In fact, if a lawn mowing service can retain all customers that come in contact with them to returning customers, they will experience unprecedented growth in their clientele base, year in, year out.

Lawn mowing providers in Texas need to understand that a lawn mowing service is a business and should be treated as such. Customers need to be given the best treatment possible to keep them satisfied and happy for repeat businesses. As a business, being responsive and attentive to customers' inquiries also have to be prompt and timely to ensure you don't lose your customers to a more responsive and customer-friendly service.

Leveraging on social media platforms

Every business that wants an increased reach or engagement with its intended audience must leverage on social media to achieve this. Social media is one of the trending platforms to connect with other lawn owners, customers who need lawn mowing services and other service providers easily at zero cost to you.

Customers can be found online where they are involved in different search inquiries to find a fitting lawn care service for their lawns. Whether you are a lawn owner or service provider, social media is important as it gives you an online presence to be more visible to any updates in the lawn care industry.

Social media works as a useful tool to share and receive important information around to different parties in the industry. To leverage on social media to the optimum, you can connect with social media groups dedicated solely to lawn mowing services so as to have the stay up-to-date as often as possible.

GoMow lawn mowing services Austin provides one of the best lawn mowing services in the industry because of their dedication to follow lawn mowing trends and updating their services accordingly. With improved technology hitting us every day, it is clear that lawn mowing trends have to be put into serious consideration by lawn mowing services and Go Mow Lawn Mowing Service leads the pack in this regard.

If you need one of the best lawn mowing Texas services, you will be hitting the bull's eye by picking GoMow Lawn Mowing Services for your residential lawn.