October Lawn Care Tips In San Antonio, TX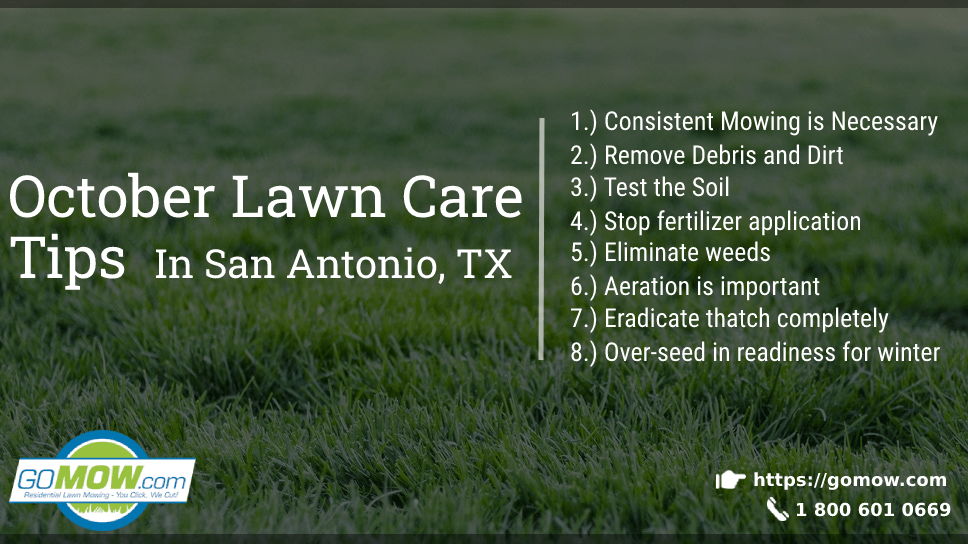 October lawn care in San Antonio comes with certain preparations to keep your lawn in good shape for the rest of the year. Cooling temperatures means your grass would likely be going into dormancy soon so it's important to carry out October lawn care tips in San Antonio to care for the grass.
In this post, we have outlined several lawn care tips to keep your lawn green and healthy in the October fall season.
1.) Consistent Mowing is Necessary
Regular lawn mowing in October is a necessity for San Antonio lawns. Just because the grass cutting season is ending doesn't mean reduced mowing. It's important to continue mowing the lawn the right way to keep it in good shape. Grass cutting in San Antonio will do your grass field a world of good apart from the aesthetics.
Mowers should be in good shape and blades sharp for smooth cutting. The Cool temperature usually causes a slow-down in the growth of grass but mowing should continue nonetheless. GoMow Lawn Mowing, San Antonio provides cheap lawn service in San Antonio, TX.
2.) Remove Debris and Dirt
Removal of debris and dirt is a necessary lawn care tip for lawns in October in San Antonio, TX. Dead leaves, dead sticks, grass, dirt and other unnecessary items should be removed from the lawn surface. Dirt and debris can attract disease-causing organisms and Pack and remove all dead leaves and plant matter by raking, bagging, mulching or composting.
For best results, hire lawn care in San Antonio, TX to deliver a professional service that would benefit your lawn the most.
3.) Test the Soil
For October lawn care, request to have your lawn yard tested by your San Antonio lawn mowing service to know if your lawn needs soil enrichment. Running a soil test will put you ahead of the season because you'd learn exactly what your lawn needs. It could be toxicity treatment, pest treatment or fertilizer introduction.
4.) Stop fertilizer application
With fall season kicking in in October, it's time to stop feeding your lawn with fertilizer.
If possible, stop fertilizing the lawn from 6 to 8 weeks ahead of any frost. In fact, it's best to liaise with an affordable lawn care service in San Antonio, TX to care for your lawn the best way.
During this time of the year, your lawn is going into dormancy which is a natural process. While dormancy is commencing, applying fertilizer will affect this process so it's best not to introduce any feeding.
5.) Eliminate weeds
Weeds compete with your grass for resources including oxygen and water. Therefore, it's important to eliminate them as soon as they appear. Regular checks for weeds by a yard service in San Antonio, TX can keep them in check.
GoMow Lawn Mowing, San Antonio, TX provides one of the best lawn mowing services for San Antonio lawn owners. Remove by hand or use controlled chemicals to eradicate weeds before they infest your lawn yard.
6.) Aeration is important
Compacted soil is a feature of many lawn yards after summer. Not surprising when you consider the fact that summer comes with a lot of activities on the lawn. Little wonder why the soil becomes compacted from these activities.
In many cases, the soil of lawn yards will be compacted by the time it's October fall season. The reason for this isn't far-fetched because compaction happens when the soil particles become too tightly-packed. This compaction of the soil isn't healthy for the grass as it limits the permeation of water, air, nutrients and other important necessities for crops.
Aeration eliminates compaction by breaking up these clumps. It can be done with a shovel pitchfork or a garden trowel for small lawns. Larger lawns will need the use of an aerator. Typically, small lawns will require minimal aeration effort compared to large lawns which will involve using a mechanical aerator for proper aeration.
Mechanical aerators though expensive will cost less when hired from a lawn mowing company in San Antonio, TX compared to purchasing one.
7.) Eradicate thatch completely
Thatch can reduce the productivity of your lawn grass over time. Thatch forms mainly from cut grass which constitutes debris and dead grass. Thatch forms from grass and soil matter on the surface of the lawn. When it builds up, thatch can become obstructive and impede the growth of the grass.
At this stage, it's important to dethatch the lawn to allow air, water and nutrients can pass through with ease.
For busy or inexperienced lawn owners, dethatching requires help from a lawn care service in San Antonio, TX to do it correctly and effectively.
Most lawn companies that offer lawn maintenance in San Antonio, TX can certainly help homeowners with keeping thatch off their lawn yard. Getting started to dethatch your lawn for October lawn care starts with booking a session first.
8.) Over-seed in readiness for winter
During fall lawn care in San Antonio, TX in October, consider over-seeding the lawn to improve the look of it. Over-seeding causes an even, beautiful growth of the lawn during the coming cold months of the lawn cycle.
GoMow Lawn Mowing, San Antonio, TX offers professional lawn mowing for October in San Antonio, TX. All you need to do to get started is to book a free quote and we will be in touch right away.
To experience the best San Antonio lawn care service, visit GoMow today >> https://gomow.com/service-areas/san-antonio/