Lawn Care Services – Lawn Care Solutions for your Lawn in Austin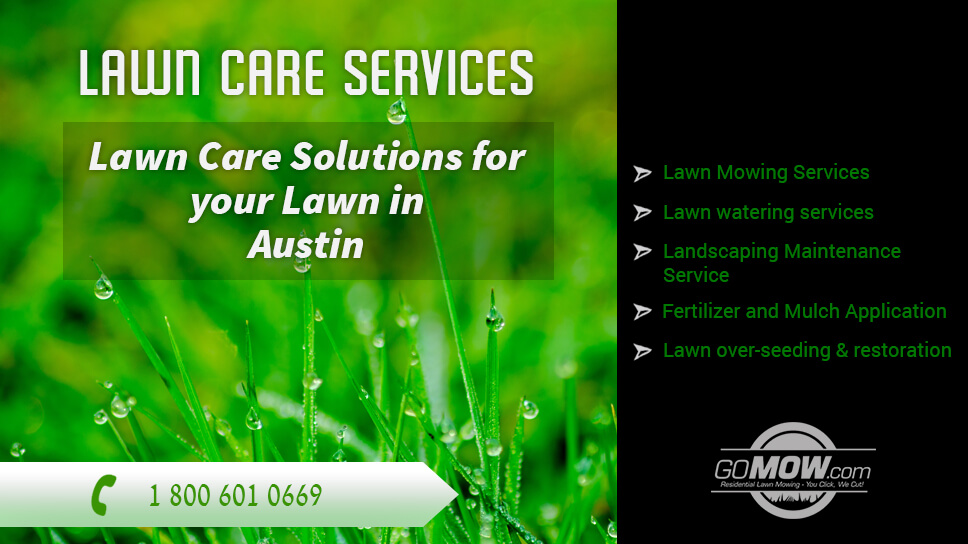 Lawn care owners in Austin and environs require a multitude of several lawn care solutions for their residential and commercial homes. These solutions are usually part of the services offered by most lawn care providers like Go Mow Lawn Mowing Service, Austin.
When in need of professional lawn care services in Austin, these are the solutions to look out for always. In this post, we have discussed them in detail for easy comprehension.
Lawn Mowing Services

Lawn Mowing remains one of the core services offered by GoMow Lawn Mowing Service in Austin, Texas. Busy homeowners who need lawn mowing will enjoy the weekly and bi-weekly lawn mowing services offered to customers.

Most lawn mowing services are offered every day of the week making it convenient for lawn owners to keep their lawns well-maintained and beautiful. This is one of the places we come in to help residential lawn owners.

GoMow has several years of experience using the best mowing practices to give you the perfect lawn cutting service in Texas.

To give lawn owners the ultimate lawn mowing experience, we use up-to-date, well-maintained equipment, experienced and licensed professionals who know exactly how to mow lawns properly.

Lawn watering services

Just like lawn mowing services, watering services are part of the lawn care solutions needed to keep lawns in perfect condition. Watering is best done at least once every week and twice weekly for especially dry areas.

If you are an Austin lawn owner, watering twice every week is necessary to reduce the risk of having a dehydrated lawn. Watering can be done hand or through the installation and use of Sprinkler systems.

For small lawn yards, watering can be used to water the lawns while for large lawn yards, it is best to use either a Spray sprinkler or a Drip sprinkler system.

Landscaping Maintenance Service

Just like lawn mowing in Austin Texas, landscaping maintenance service is one of the necessary lawn care solutions homeowners need to keep their property in good shape.

Landscaping maintenance solutions comprise trimming, gardening, weeding, edging, planting new plants like flowers and shrubs, and even application of mulch and fertilizers in the earth.

At first landscaping seems to be more complex than other lawn care solutions but in essence, it is quite straight-forward if handled by experienced experts. Fortunately, there are a good number of lawn care services in Austin that also offer landscaping to clients who need them.

A good number of landscaping services in Austin have the best professionals, equipment, and training experience to deliver proper landscaping for your needs. Customer satisfaction is taken most seriously as this increase the chances of having repeat business.

Fertilizer and Mulch Application

Fertilizers and mulch are both necessary to give your lawns and landscapes that distinguished air of good health and refinement common to well-treated grasses. Fertilizers and mulches improve the quality of the soil by adding the much-needed nutrients to it to nourish your grasses and other plants.

The best fertilizer types to use normally are organic ones because they usually break down completely compared to inorganic types that leave toxic residues that can cause harm in future.

For mulching solutions, the best types are organic just like in fertilizers and can be applied once a year to improve the look of your garden floor. Mulch can be brown, black, red or cedar as long as it is biodegradable, safe for living things and 100% non- toxic.

Lawn over-seeding and restoration

As part of lawn care solutions provided by the different lawn care services, when there is a need to restore a weakening lawn, over-seeding or restoration of the lawn is usually needed. Lawn restoration involves planting new grasses using treated grass seeds to re-grow the lawn.

Restoration is similar but usually involves a complete overhaul of the lawn yard or landscape. Sometimes, a completely different species of grass is used to restore the lawn rather than using the same one on it before.
Final words
Lawn care solutions are necessary to keep your lawn in Austin in the best shape possible. There are many more services that are needed to make this happen. However, the basics of lawn care and maintenance can be covered by the solutions in this post.
For lawn mowing service in Austin Texas. Contact us at GoMow Lawn Care service & Click below to get FREE QUOTE.