How To Keep A Green Lawn In San Antonio, Texas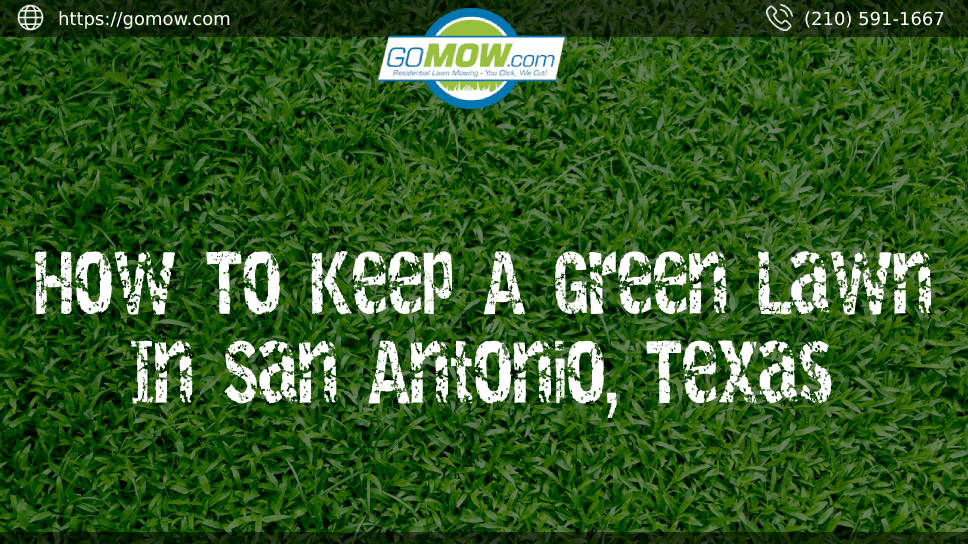 Keeping your lawn green and beautiful in San Antonio isn't hard as long as you leave it for professional lawn maintenance in San Antonio. When you have a beautiful green lawn, your home becomes more appealing in the view of everyone. You'll also find out that being outdoors becomes more enjoyable too. Whether it's a get-together with friends and family or a barbeque roast party with the neighbors, having a lovely lawn yard comes with several benefits.
In this post, we have discussed the different ways to keep a green lawn in San Antonio, Texas.
Check your nutrient level

For your lawn to remain green and healthy, the nutrient level has to be up there. Rich soil content often translates to healthy growing grass. It's important to engage a lawn care service in San Antonio, Texas to run regular checks on the soil during each season of the lawn cycle to know your nutrient level.

If your lawn needs nutrient improvement, these tests will indicate what nutrients are lacking so that your lawn care in San Antonio can fix it. Don't do this yourself, ensure you hire the right yard service proven to deliver quality but affordable lawn care in San Antonio.

Feed your lawn with nutrients

No matter how healthy your lawn looks, there is a need to add nutrients to it after each season in a lawn cycle. This is most relevant if the lawn has undergone stress from the elements. Introduce organic feed containing healthy levels of nitrogen, phosphate, and sulfur which are necessary for optimal plant growth and development.

Plant feed application often requires experience to get it right which is why you have to hire a reputable lawn care service in San Antonio Texas for the task.

Irrigate the lawn regularly

Like all plants, lawn grass needs water to be at its best. The first step when it comes to watering your lawn adequately is to know the type of grass you have on your property. Each species of lawn grass has a specific watering requirement for it to grow healthily.

Some grasses require more irrigation than others. Therefore, you might want to find out the type of grass you have on your lawn before setting it up or maintaining it on your property.

Your grass-cutting service in San Antonio can make recommendations on how best to keep your grass hydrated and green sustainably into the future.

Watch out for disease outbreaks

Disease outbreaks affect the natural look of your lawn. Several fungal diseases are known to attack the grass which leads to browned and dead patches on the lawn. To combat this potential problem, it's important to inspect your lawn yard from time to time to ensure everything is in order. Hiring a lawn mowing service in San Antonio to provide routine mowing can help in detecting when your grass is under disease outbreaks. Regular mowing means it will be seen early and a solution provided on time.

Pest infestation

Pests can affect the greenness of your lawn if left to overrun it. And yes, pest infestation can easily happen if left unchecked. The best way to maintain the rich green health of your lawn is by eradicating pests as soon as you notice them on your property.

Biological pest control measures can do the trick. However, in cases where there is a need to use chemicals, ensure that you consult with professionals who can deliver the lawn treatment without harming your lawn, pets, kids, and property. A good number of lawn maintenance in San Antonio offer pest control services needed to keep harmful pests away from your lawn.

Regular Mowing

Your lawn's health and greenness could depend on how properly mowed it is. Regular mowing once or twice a week is important to keep your lawn neat, green, and healthy. The problem is most lawn owners are too busy to care for their lawns. Therefore, hiring affordable lawn maintenance in San Antonio is the way to go.
At GoMow Lawn Care Service, we offer the best mowing in San Antonio, Texas. Our service delivery is second to none and our pricing is budget friendly.
You can get a free quote today so you can begin to enjoy the best lawn mowing experience today.
To get started, visit our website to hire affordable lawn mowing in San Antonio.
Go here – www.gomow.com/service-areas/san-antonio.