How To Grow Lawn: Planting Grass Seed In A New Yard At Dallas, TX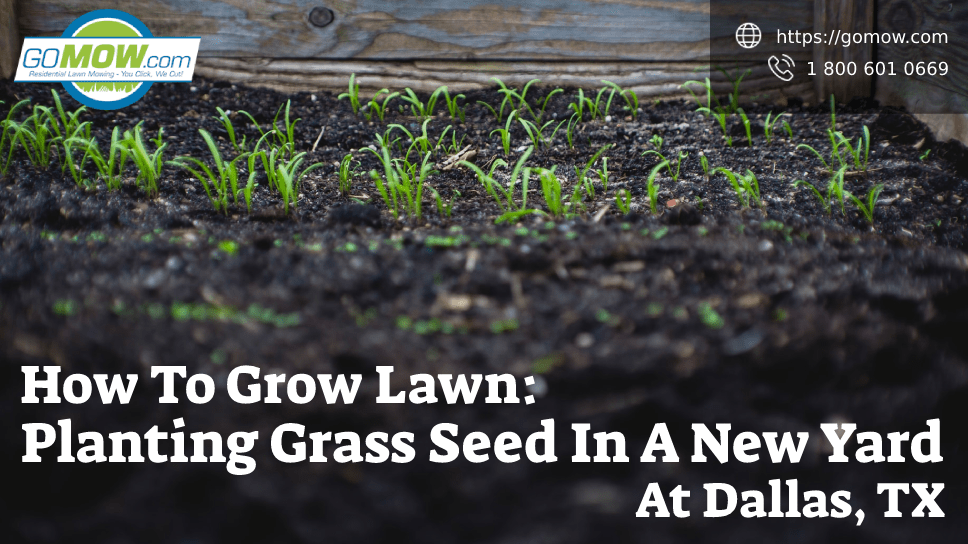 Planting grass seeds in a new yard requires some experience or professional help, whichever one you can get access to at the time. However, we recommend professional yard maintenance services for a reason. They are professional and have the necessary manpower, equipment, and experience to bring your new lawn yard up to speed with acceptable standards.
Starting a new yard anywhere can be quite a challenge but we believe that after going through this post, you will have more experience regarding what's involved. Planting grass seeds is one of the most basic steps to take and this article addresses how to do this successfully.
Timing is important
Above everything else, timing is very important in getting it right with seed planting in a new yard. Your chosen yard care service simply has to get the timing right for the results to work as expected. Grass species are different and grow differently. They also have varied needs and requirements that must be met for optimal growth and development to be achieved.
Warm-season grasses should be planted during late spring or early summer. Similarly, cool-season grasses do best during fall or spring. Planting at the wrong time is a recipe for avoidable disaster.
Get your yard ready for growing grass
Clearing and preparing the area needed for your lawn is an important task when looking to set up a new yard. Cut trees if you have to, and remove dirt, stones, uneven landscape, and any obstacles that will affect the flow of your lawn yard. A landscaping service or yard maintenance service can be called in to help in setting things up. Inspections can also be done to check for diseases and pest infestation in the area before the new yard set-up commences.
Prepare the lawn soil for new grass
Healthy soil can make or mar the growth of your new lawn. It's a must to test your soil to check for abnormalities and check for pH level, nutrient content, and composition. It'd be great to run some tests through the services of a Texas yard care to know what's at stake at every point.
Furthermore, there are portable testing kits available for you to test different samples of soil while you optimize it to attain a recommended. The best pH level for good soil is between 6 and 7 so if your soil pH falls here, you're clearly in safe hands. A simple search of yard services near me or cheap yard services near me will bring it out some greats services within your local populace.
Introduce the new grass
As soon as the new area is ready for new grass, it's time to prepare the lawn soil as well. We encourage new lawn owners to follow the instructions of the seed manuals they buy should they decide to go for DIY yard care. When spreading the seeds, use a spreader to disperse them evenly across the surface of the prepared earth. There are 2 spreader options – a drop-spreader which is perfect for small lawns and a broadcast spreader which is best for larger lawns because the reach is greater.
Protect the seeds of grass
Without proper protection, your grass seeds can be fed on by the seeds. Work the soil with a rake or garden fork to mix the seeds into it so they're not exposed. The use of straw or some other light covering has been known to work effectively to protect grass seedlings. Only remove the protective cover after the new growth has taken adequate control over the lawn space. Remove the cover immediately after the grass takes root for the best results.
For all your mowing requests, GoMow Lawn Care Services is available to handle your lawn with a superb mowing experience. We offer cheap yard care services in Dallas to keep your lawn healthy and clean.
Contact us today to get a FREE QUOTE and get started with lawn mowing that makes a difference.