How Do I Treat My Lawn? 10 Lawn Care Tips For Residential Lawn Mowing Service In Allen, TX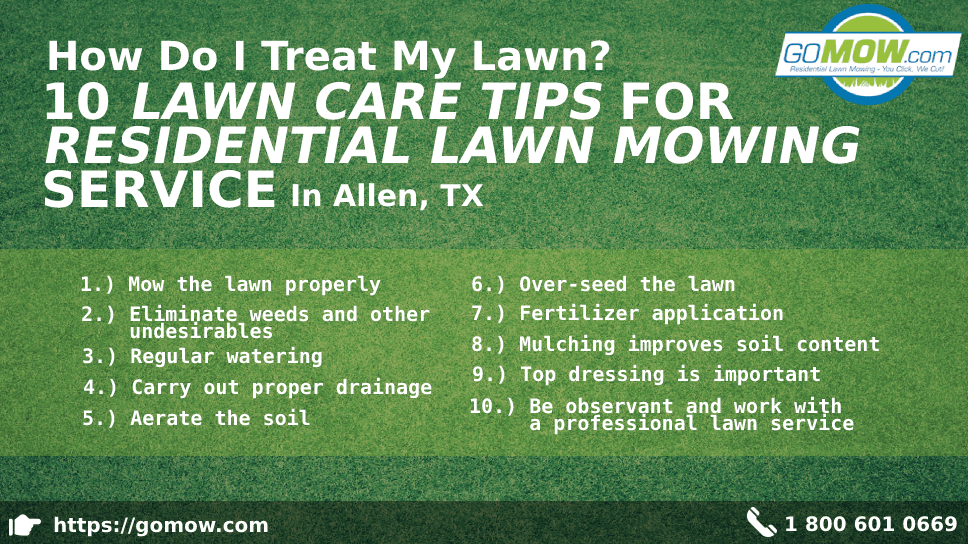 For lawn owners in Allen, Texas, lawn care is essential for residential yard care. It's important to have a beautiful home with a lush, green lawn to match it. In this post, we have provided 10 lawn care tips for residential lawn mowing services in Allen, TX.
Keep reading below to learn them quickly:
Mow the lawn properly

Proper lawn mowing will go a long way to keep your lawn grass beautiful, green and healthy for a long time. Lawn mowing should be done once or twice weekly to ensure your grass is in good shape. You will need to hire a professional lawn mowing service Allen, TX for this to happen consistently. GoMow Lawn Mowing, Allen, TX is a good place to begin. Hire an expert lawn mowing service personnel who will give your lawn the best care.

Eliminate weeds and other undesirables

Weed, thatch and moss must be eliminated from the lawn immediately they're spotted to avoid in danger of infestation by disease or pests. Weeds compete with grass for nutrients and resources and if left unattended will choke them. Thatch blocks the free movement of air and nutrients in the soil. Moss can attract disease carrying organisms that harm the grass. Any lawn care services in Allen, TX can provide weed and thatch removal services.

Regular watering

Your Allen lawn care should have a strong focus on adequate watering of the lawn. Regular watering should be about once a week in wet conditions and twice weekly in hot weather to keep the grass hydrated. Watering is best done in the mornings to avoid evaporation from the sun's heat. During each watering session, ensure that the soil is soaked with water just above the surface for proper hydration.

Carry out proper drainage

Waterlogged lawn yards usually come from poor drainage. Ensure that your lawn has proper drainage to remove excess water by itself. Hire a lawn mowing Allen service for this task and they will likely help improve your drainage. The first step usually is to improve the physical aspect of your lawn to drain water more quickly and stop waterlogging. Though GoMow Lawn Care, Allen doesn't handle drainage services, we might provide a referral. Improving the soil permeability will also allow water to drain quicker. Usually, the presence of thatch, soil compaction and high clay deposit all contribute to poor drainage.

Aerate the soil

Aeration improves the permeability of air, water and nutrients at the soil level. Aeration is often needed after the soil has become compacted. This service requires breaking the compacted soil into smaller clumps to increase water permeability. Aeration can be done with a mechanical aerator or pitchfork or spade if you have a small lawn yard. GoMow Lawn Mowing, Allen, TX can help with recommendations on getting your lawn properly aerated if it needs it.

Over-seed the lawn

Eventually, your lawn is going to become over-whelmed and need rejuvenation. Over-seeding is a practice offered by lawn maintenance services in Allen. It works by filling out tired or worn out areas of the lawn using fresh grass seeds. Over-seeding will improve most dying lawns but before implementing it, the lawn needs to be aerated, mowed and properly watered so the seeds will take root in the best shape possible.

Fertilizer application

Like humans and animals, grasses need feeding to live and grow optimally. There are different types of fertilizers but all of them have the same goal to help your lawn grass to grow healthily. The type of fertilizer you choose depends on the soil type, the weather, and the type of grass on the lawn. Most fertilizer types have instructions on usage to avoid dangerous mistakes.

Mulching improves soil content

Mulching is a process of adding rich, organic matter to the soil to improve its nutrient content. Mulching can be done by using a mulch-mower that spreads mulched cut grass on the lawn surface when being used for mowing. You can also buy already-prepared mulch which can be spread and mixed into the soil to increase its nutrient level.

Top dressing is important

Like mulching, top dressing improves the quality of the soil so it can perform better overall. Before considering top dressing, ensure that it's what your soil actually needs. It needs to be done right and the best way to get it right is by hiring a lawn care service.

Be observant and work with a professional lawn service

Finally, be observant and watch out for any signs that all might not be well with your lawn yard. Research, observe and check out your lawn yard periodically. In addition to this, ensure that you work with professional lawn care in Allen, so you can get the best value for your money.
Get started by searching for lawn mowing online, GoMow Lawn Mowing Services, Allen, TX. These tips will set you on the right path to having a beautiful lawn that's the talk of your neighborhood.
Are you ready to get started with Allen Lawn Care? Visit https://gomow.com/service-areas/allen/ to begin with a free quote today!
Related Articles
What are your top lawn mowing dallas challenges