GoMow Review: What Do People Have To Say About GoMow Lawn Care Service In San Antonio, TX?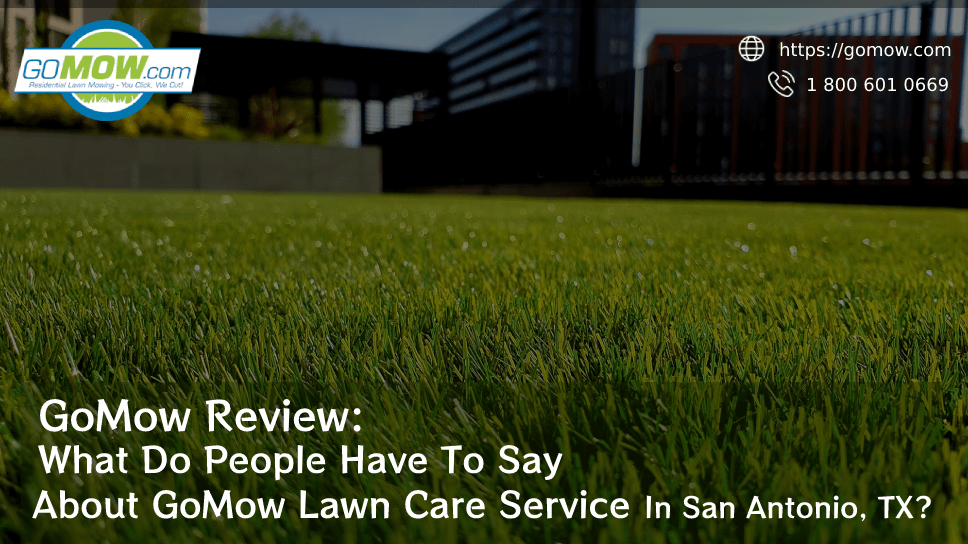 For a lot of modern-day homeowners, getting a reliable lawn mowing service isn't the easiest thing to do. First, you need to search for lawn mowing online, and then you have to go through reviews from past customers and ask the necessary questions before making a decision. It's important for lawn owners to use professional help to keep their lawns in good shape.
GoMow Lawn Care provides a lawn mowing service in San Antonio. Our yard service in San Antonio is focused on delivering excellent mowing to residents in the area. Mowing is essential to caring for your lawn and cannot be avoided. When your lawn is badly maintained, it doesn't just affect the state of the grass but the whole aesthetic of your yard is impacted.
Fortunately, residents in San Antonio get to enjoy a quality lawn mowing experience with GoMow Lawn Mowing. Our efficiency and experience have made us the best lawn mowing service in the area. Hiring us means as your lawn maintenance service in San Antonio means you have access to our lawn service. This full service includes lawn mowing, blowing, weed eating, and edging on your lawn yard.
You can count on us to deliver when you hire us as we have over 22 years of lawn mowing experience in this industry. Don't just take our word for it!
Feel free to check some of our reviews below to see what our customers have to say about us.
Positive: Professionalism, Quality, Responsiveness

Mowing customer since 2017. This spring I added shrub service to mulch the beds. The guys required little direction from me. They were fast! Cleanup was complete. I want this crew next time.

– Peter P
Services: Lawn mowing & maintenance, Mulching
For all your quality mowing needs, this San Antonio lawn mowing service will deliver in every way you can think of. Our customer, Peter (above) has used our lawn mowing service in San Antonio, Texas for the past 5 years.
Below is another piece of feedback from Harper McDonald who was glad to have started using GoMow's affordable lawn care in San Antonio.
Positive: Punctuality, Responsiveness

I've used GoMow for about two years now and haven't had any issues with service or quality. The trades are always on time and do great work. I've really enjoyed working with Paul Patterson, he is very responsive to emails and his customer service is top-notch. In addition, the prices are very reasonable and GoMow provides flexible mowing options.

– Harper McDonald
Services: Lawn mowing & maintenance, Mulching
Reasonably priced and they do a great job.

They mow every two weeks and get the front/back yard done in less than 20 minutes. Also hired for a leaf removal they did an excellent job (20 bags of leaves in under an hour).

– Jonathan Santo
From the first phone call to the team that comes out the GoMow group has been great. Everyone has been professional and courteous.
Recommend to all. 5 star

– Ernest Johns
Services: Lawn mowing & maintenance
One other advantage of using GoMow that's not often mentioned is the fact that customers get access to professional but cheap lawn service in San Antonio. GoMow Lawn Care offers a free quote booking feature that calculates the cost of your lawn mowing needs. Whether it's weed removal, grass mowing, or edging, you get value for your money always.
Kevin hired us for some lawn mowing and yard services in San Antonio. He had this to say after we finished our service:
Positive: Professionalism, Punctuality, Quality, Responsiveness, Value

The crew was great. They were very reliable and went the extra mile to clean the yard

– Kevin Knebel
Services: Lawn mowing & maintenance, Yard work
GoMow is one of the best lawn mowing companies in San Antonio. We offer expert lawn care services to both old residents and new homeowners in maintaining their lawns. Lawn mowing, blowing, edging, and weed-eating are all included in our full lawn service in San Antonio.
Call 210-591-1667 to begin right now. GoMow also offers next-day lawn care with a 100% satisfaction guarantee.
Contact GoMow Lawn Care Services today to get started on a regular lawn maintenance and treatment program in San Antonio, Texas.