A Complete Solution For Your Lawn Care In Plano, TX By GoMow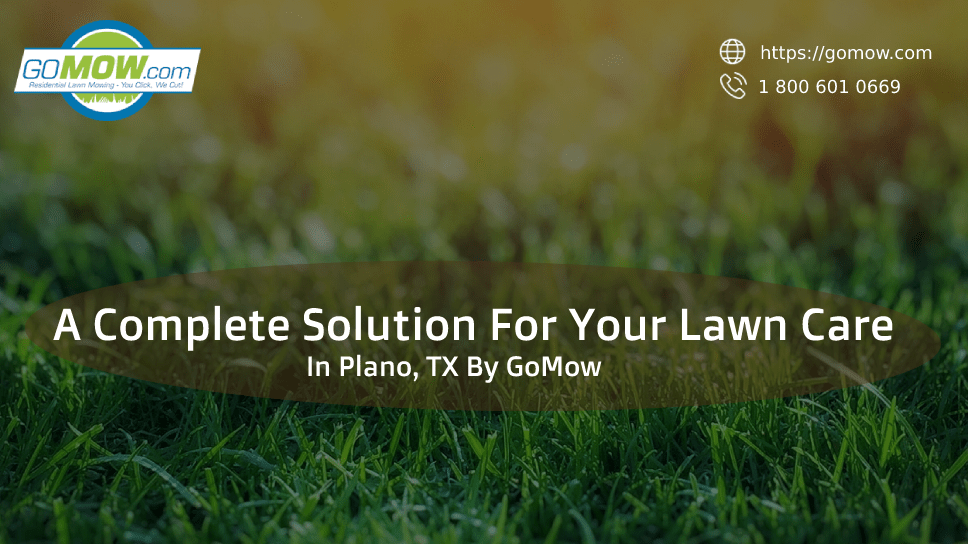 Keeping your lawn beautiful is something you cannot avoid as a lawn owner. Some lawn owners consider doing it themselves but that doesn't cut it most of the time simply because of the lack of professional experience.
If you're looking for a complete solution for your lawn care in Plano, TX, your best bet is to go for GoMow Lawn Care Services, Plano, TX.
In this post, we have discussed what makes for a complete lawn care solution in Plano, TX
Mowing
GoMow Lawn Mowing Service, Plano, TX offers an effective lawn mowing service in Plano, TX. Customers get to enjoy weekly or bi-weekly lawn mowing that fits their budget without spending a ton of money. We also offer a free lawn mowing quote on our website to help determine how much you spend. Our experience ensures that you get to enjoy quality lawn care that keeps your grass beautiful and green for long.
Edging
Without proper edging, your lawn grass wouldn't look as neat or defined as it does after a mowing session. Usually, we edge your lawn immediately after a mowing session. Both services go hand in hand so expect to edge whenever we mow your lawn yard. Hire GoMow Lawn Mowing, Plano to experience the beauty of working with a professional lawn care company in Plano, TX.
Debris removal
Our complete Plano lawn care service comes with debris removal as well. When we mow your lawn, we also remove debris from it. Mowing a cluttered lawn isn't a smooth experience which is why we try to ensure that your lawn is clean before we commence mowing. Therefore, it goes without saying that we remove debris from your lawn too.
Blowing
Our Plano lawn care will not only mow your lawn but we will help blow leaves and cut grass off your lawn yard to keep it clean and beautiful. Blowing makes it easy to remove fallen leaves, dead grass, and other unnecessary items from your lawn. Enjoy this procedure as part of our complete lawn care solution when you hire lawn maintenance in Plano, TX.
Weed Removal
While mowing might be the core service we provide, weed removal isn't above our scope. For lawn owners whose yards are weed-infested, GoMow Lawn Care Services, Plano, TXoffers weed removal to keep these pesky plants from choking your grass.
Typically, weeds can be removed by topical application of weed agents, pulling off the root by hand, and the use of pre-emergent weed-killing compounds that kill weeds before the seeds even germinate.
GoMow Lawn Mowing Services offers professional lawn mowing in Plano, Texas. Visit our website to get a quote for your location and budget. We will not just mow the lawn yard when we work for you, we will also deliver an unforgettable experience.
Feel free to leave your lawn to us to do our magic!
Related Articles
How To Determine Your Summer Lawn Is Dehydrated And What To Do About It In Plano, TX?