What Is The Best Watering Schedule For Your Lawn In The Summer At New Braunfels, TX?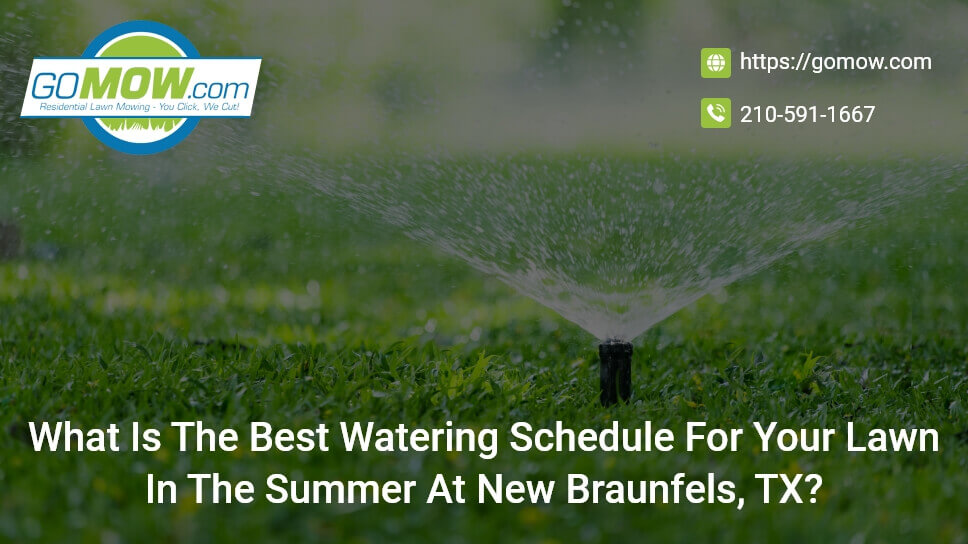 As much as lawns need water for their metabolic activities, a wrong approach can cause more harm than good. Watering lawns in summer at inappropriate hours, overwatering and under-watering are issues that can cause problems for our grass if not addressed properly.
The question of how often to water lawns in summer is usually up for debate amongst lawn owners. In this post, we have discussed everything you need to know about the best watering schedule for your lawn in the summer at New Braunfels, TX.
Let's go!
Best watering schedule for your lawn in Summer
The best time to irrigate your lawn in summer isn't in the blazing hot afternoon. It also isn't in the evening as the sun sets. Watering the lawn in summer is best done in the morning before 11 am and after 8 am.
At this time of the day, the evaporation of moisture from the earth's surface is low due to the reduced heat. Absorption is high at this time of the day which means that your grass gets to absorb as much water as possible.
By the time the sun is up and hot, the lawn grass would have been hydrated enough for the day. No matter what anyone says, don't water your lawn at night. It's a recipe for disaster because most fungal diseases become active in wet, low-light conditions. Avoid this as much as possible because many fungal infestations are usually subtle at first before blowing up.
So in conclusion, only water in the mornings for best results. If you're using a lawn service in New Braunfels, you need not worry about getting this activity if you hired them for it. Most New Braunfels lawn services already know what to do to keep your lawn watered the right way.
How Often Should You Water
To the big question on most lawn owners' lips, how often should you water the lawn? We know what time the watering should be done. However, frequency is subject to several factors.
Factors that affect watering frequency include but are not limited to the following:
Topography of the location

Some locations require more watering than others. Examples include areas with high sunshine or at an altitude. Areas with higher altitude will experience colder weather and therefore require less watering compared to low altitude, hot temperature areas.

Species of grass

Some species of grass require little water, around once a week to go by. If you use lawn mowing in New Braunfels, make inquiries to learn the water needs of your species of grass. Armed with this information, keeping your lawn watered in summer becomes easier.

Season of the year

Typically, summer is drier than other seasons and requires that grass lawns are watered more often. Consult with your lawn care in New Braunfels to know what works best for your region.

Prevailing weather condition

A rainy weather condition means you can take a break from watering your lawn. Nature is doing its job excellently well.

Condition of the grass

If your grass is undergoing a dry spell, watering frequently might just save the day. An effective lawn schedule from your New Braunfels lawn mowing service can keep your grass green and hydrated. Lawns in hot, sunny areas in New Braunfels require regular watering every week to look great so just get it done.

Soil type

Certain soil types hold water more than others. Identify your soil type then water accordingly. To avoid doubt, consult lawn care in New Braunfels to know your soil type so you can care for it with a more informed knowledge base.
PRO TIP
On a general note, watering should be done deeply using about 2 inches of water once or twice a week. By watering the grass this way, it will have enough water but not too much to get flooded or weaken its root development which is essential for drought resistance.
Avoid daily irrigation as it hurts the lawn in the long run. Such consistent watering creates an enabling environment for diseases and pests to fester.
What You Need for Regular Watering
For proper watering, certain items are needed. You can choose to go with manual watering by hose or watering can if you have a small lawn. For large lawns, a sprinkler system is needed. You don't have to do the installation yourself, go for professional lawn care help here.
Ask neighbors, friends or family for lawn care services in New Braunfels capable of installing water sprinkler systems. An automated sprinkler system for your grass is a worthy investment that will serve your lawn long into the future.
There are 3 types of sprinkler systems you can choose for your lawn's irrigation needs:
Rotary sprinkler systems

This type of sprinkler throws water around in a circular motion and is used for lawns in the medium to large size range.

Stationary sprinkler systems

This type of sprinkler is fixed at a spot but throws water around its surrounding areas. Smaller lawn yards are well-suited for this sprinkler type. In fact, it also works for large lawns too.

Oscillating sprinkler systems

This sprinkler type sprays water around in oscillating motions over distances. It's a great option for large lawns as well. This type of sprinkler system typically costs more than the previous system.
Conclusion
Knowing when to water the lawn is as important as any other lawn care activity. Without proper watering, lawns suffer from a myriad of problems that could have been avoided. Our commitment is to ensure every lawn owner in New Braunfels has a lawn they would be proud to call their own.
To this end, GoMow Lawn Care Service offers professional lawn maintenance in New Braunfels for its residents. You're welcome to enjoy a FREE quote when you visit our site.
Are you ready to experience the best lawn mowing in New Braunfels, TX?