Tips of Lawn Mowing when the lawn grass is wet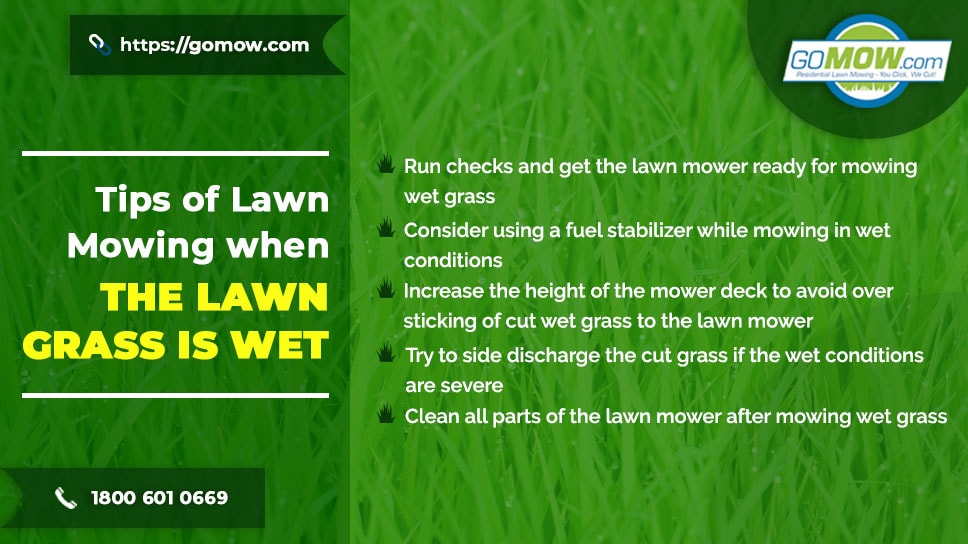 Lawn mowing is often better done in dry weather but what happens when it's a wet season? Lawn care can't be avoided just because the grass is wet, so there are specific actions to be taken when this happens.
Unlike in dry season, lawn care when the grass is wet requires a bit more attention to detail, and we have outlined some lawn mowing tips when the lawn grass is wet.
Run checks and get the lawn mower ready for mowing wet grass

Careful cleaning of the lawn mower and oiling of the parts is necessary to set it in a good working condition to mow wet grass. Silicone spray is an effective shield against wet grass clinging to the mower after mowing. When sprayed on the mower parts, cleaning it afterward is usually easier.

It also a good practice to ensure GoMow lawn mowing service Round Rock sharpens the blades before mowing the wet grass. Shredding will occur if the blades of the lawn mower aren't sharp enough. Freshly sharpened blades will cut clean and pure without stressing the wet grass.

The lawn mower should be run and tested to see how it's working before going ahead to start mowing the wet grass. If there is shredding or tearing, then there is a need to sharpen the lawn mower blades.

Consider using a fuel stabilizer while mowing in wet conditions

Mowing in wet conditions requires adding a fuel stabilizer to the fuel during mowing as the ethanol content of the fuel can react to the moisturous condition and damage your lawn mower's mechanism. This mishap can be avoided when you use a fuel stabilizer.

The rule of thumb is to use as much as you need during that mowing session. For the best information on fuel stabilizers of choice, consult with your Round Rock lawn care service.

Increase the height of the mower deck to avoid over sticking of cut wet grass to the lawn mower

When set low, there is a tendency for wet cut grass to cling to the undercarriage of the lawn mower as mowing goes on. To avoid this, raise the mower deck about 3-4 inches above the ground to trim the lawn grass.

Close crop shaving isn't encouraged in this wet condition. Apart from the danger of clogging up the lawn mower parts with wet cut grass, cutting the grass too low exposes it to several hazards. It is up to you to ensure your lawn service in Round Rock of choice follows the right practices when mowing your wet grass.

Try to side discharge the cut grass if the wet conditions are severe

This is an important tip to follow if the wet condition is too much. Bagging and mulching wet grass can prove difficult under wet conditions. Rather than do this, consider using the side discharge to blow out the mown grass then gather them much later after mowing.

Clean all parts of the lawn mower after mowing wet grass

A combination of moisture and grass clipping buildup can cause damages to your lawn mower over time if cleaning isn't done often. Rust, mold, and blunting of movable parts can occur when the lawn mower is poorly cleaned after mowing.

Ensure the lawn mower is turned off before proceeding with cleaning. Clear out all grass clippings using soft wet foam and clean water. Movable parts should be oiled up to prevent rust from gathering on it and causing friction. Dry the lawn mower and store in a cool, dry place before the next lawn mowing session.
Lawn Care Round Rock TX in wet conditions is best handled by professional lawn care services who have the experience and resources to deliver the best care for your lawn. Are you ready to get started with lawn mowing? Contact GoMow Lawn Care Services Texas today if you have any inquiries related to lawn care.
Visit our lawn mowing online service at www.gomow.com to book a quote today!