Never forget to use the GoMow lawn care services in Pflugerville, TX for 2020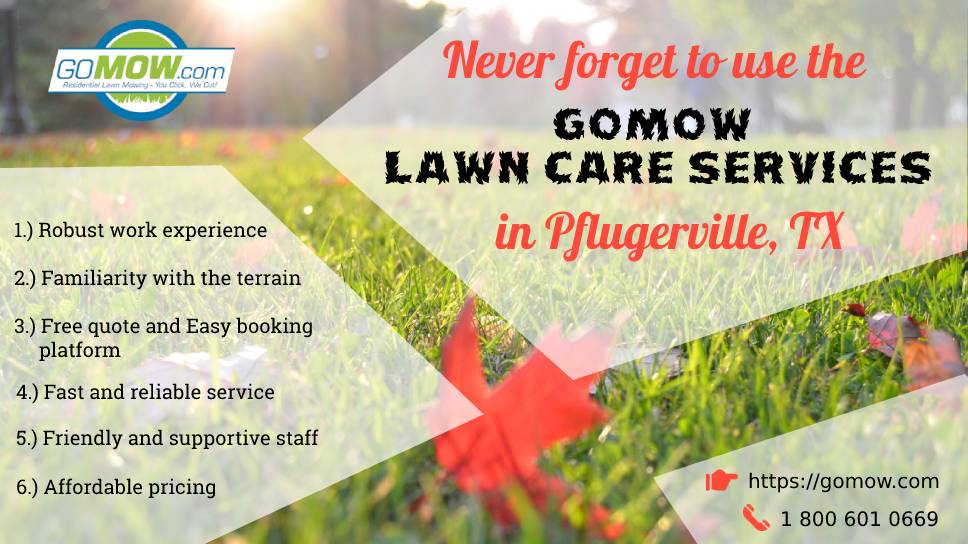 With lawn care being an essential aspect of our daily lives, it's important to work with an experienced lawn service. The beauty of your home and the health of your lawn yard depends on this. Pick a poor lawn mowing service in Pflugerville, TX, and you might find yourself mired in costly lawn yard rehabilitation procedures you could have avoided very easily.
It's understandable that most homeowners in Pflugerville and many other places usually do not have the time to do their lawn care themselves because of their busy schedules, little free time and inadequate experience. Therefore, this is the reason why you must delegate this necessary chore to a professional Pflugerville lawn care service with great recommendations.
In this regard, GoMow Lawn Care Pflugerville, TX is your go-to lawn care and mowing services dedicated especially to Pflugerville residents only.
In this post, we have discussed several reasons why you should never forget to use GoMow Lawn Care Services in Pflugerville, Texas for 2020.
Robust work experience

GoMow Lawn Care, TX is experienced in lawn mowing and care in different areas of Texas. Our lawn service plans are available in many areas of Texas which means we have the experience required to work on your turf to give it the best treatment. We have worked with hundreds of homeowners who have different sizes and types of lawns.

When you hire our Pflugerville lawn care service, we will be bringing this robust work experience to bear to ensure you enjoy a superior customer experience as we treat your lawn yard.

Familiarity with the terrain

While lawn care generally follows a specific operating guideline, we must not forget that the topography or terrain of a place is a strong factor that must be considered. Each Texas area has its particular type of terrain. Similarly, Pflugerville has a specific terrain of which our lawn care service here has mastered how to manage.

Simply put, hiring GoMow Lawn Mowing Pflugerville is one of the best decisions you'll make as far as lawn mowing is concerned. We know the Pflugerville areas like we know the back of our hands and have proven approaches that will keep your lawn green, healthy and beautiful all year long.

Free quote and Easy booking platform

In addition to everything else you've read so far, GoMow Pflugerville, TX makes the booking process easy for both new and returning customers. On our website – gomow.com, visiting lawn owners who need our services can easily book an appointment quickly or get a quote for what they need at the click of a few buttons online.

Getting a quote or booking a session with us is free so head on to gomow.com/service-areas/pflugerville/ to get started. We assure you that you'll be overwhelmed by our exceptional services.

Fast and reliable service

At GoMow Lawn care Pflugerville, TX, we understand that everyone is busy and has their lives and activities to focus on. When we handle your lawn mowing and care in 2020 and beyond, you can be certain that our services will continue to be fast and reliable.

Whenever you call upon us excluding Sundays, we would be available to engage you with a satisfying response. Your satisfaction in using our lawn maintenance service is considered a priority always

Friendly and supportive staff

We have one of the friendliest and supportive staff you'd ever come across in the lawn mowing industry.

Our experience, fast and reliable service combined with a friendly, supportive staff means that you will always be delighted when we handle your lawn care and maintenance.

We are committed to delivering a stellar moving experience that will have you coming back for more and becoming an advocate of our Pflugerville lawn mowing service.

Affordable pricing

Our pricing is customer-friendly and affordable so you don't have to burn through a lot of cash to keep us on a retainer. We charge based on the size of your lawn; to get an accurate quote of your mowing charge, please visit our website.

Small, medium or large-sized, we have what it takes to give your lawn yard a taste of the best lawn mowing service in Pflugerville.
Final words
Hiring a lawn care services doesn't have to be a battle of wits, GoMow lawn care services in Pflugerville has everything you need to keep your lawn green, healthy and beautiful. Contact us today at gomow.com to get a quote for your lawn FREE.