Get Started with GoMow lawn mowing services this new year in Texas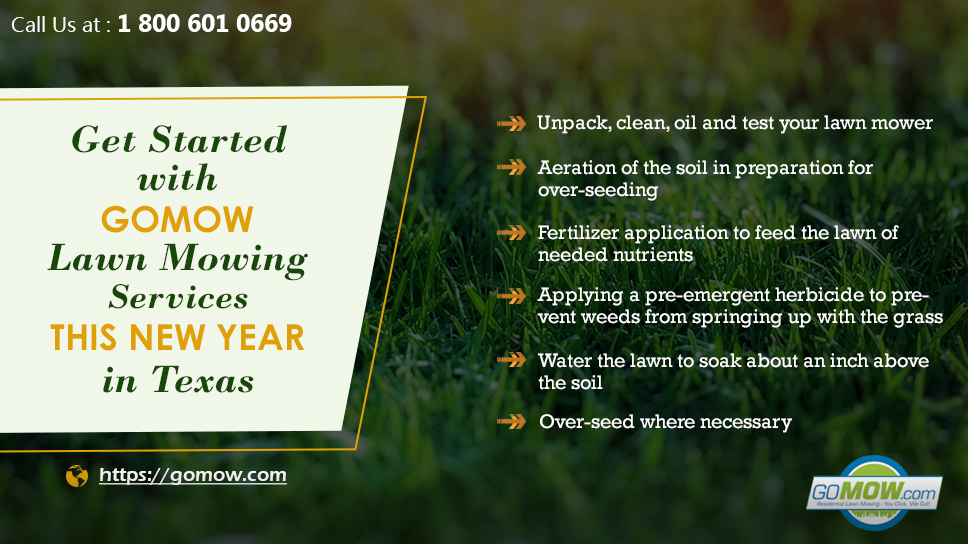 Generally, lawn care is a never-ending routine for every lawn owner. This is one reason why hiring a lawn mowing service to oversee the process is a preferred option if you plan to keep your lawn yard for the duration. As such, it must also be noted that lawn care practices vary according to the prevailing season of the year it is.
For winter lawn care, all efforts are directed towards winding down all activities for the year-end. Mowing, watering and other activities are usually reduced only to pick up again by new year as winter recedes.
In this post, we have a made a list of the different lawn care activities for getting started with new year lawn mowing regardless of whether you are engaging a professional lawn care service or doing it yourself.
Unpack, clean, oil and test your lawn mower

Towards year-end, it's quite normal to pack and stow away your lawn mower as there is little to no mowing to be done in winter. Likewise, at the onset of the new year, unpacking, cleaning, oiling and testing the lawn mower is necessary for preparation of the new mowing season.

Cleaning should be done carefully, following the user manual if possible. The mower blades could also use some sharpening for easy mowing and resetting for accurate cutting. If you need help with this, consider consulting a grass cutting service near you.

Once your lawn mower is cleaned up, oiled and ready for mowing, then you move to the next step to get ready for New Year lawn care.

Aeration of the soil in preparation for over-seeding

Punching holes in the earth to loosen it and increase the movement of gas molecules and other matter is a necessary lawn care practice for the new year season. The cold of winter season usually compacts the earth reducing the osmotic process underneath.

Aeration prevents this and involves using a pitchfork, garden-hoe or an aerator designed for this purpose to open up the soil. Aeration should be done sparingly and at most twice a year.

Small lawns can be done over with the garden tools listed above whole large lawn yards are better handled by mechanized aerators. If you have a large lawn, buying one could be out of the question, easily hire a GoMow professional lawn care service.

Fertilizer application to feed the lawn of needed nutrients

After being dormant in winter, your lawn needs more nutrients than ever before. Organic fertilizer application is the answer as it provides the required minerals for new growth and improved metabolism.

Consult a lawn care service near your area on the best options to go for.

In your lawn's interest, stay clear of chemical products because they usually do more harm than good.

Applying a pre-emergent herbicide to prevent weeds from springing up with the grass

Pre-emergent elements help reduce the germination of weeds even before they grow. After winter comes spring which is a season of growth. Weeds like other plants grow within the same period and compete with your grass for food, water, space, and every other resource.

This fact makes them a threat to your lawn and the best time to tackle them is during the early stages.

Applying pre-emergent herbicides takes out the weeds before they become recalcitrant and tougher to remove.

For inexperienced lawn owners, the best advice for tackling weed in the new year is to consult a lawn treatment service recommended by people you trust before buying a pre-emergent herbicide.

Water the lawn to soak about an inch above the soil

Your lawn grass needs water and a lot of it to kick-start the new season. Twice weekly and done deeply should be enough up until there is new growth. If you can afford the cost, setting up a sprinkler system is great for large yards.

It will save you time, manpower and running expenses, all things being equal. Alternatively, you could do it yourself or hire a lawn treatment service to handle this.

Most lawn service offer friendly pricing so look around, compare and pick one that suits your budget and needs best.

Over-seed where necessary

It's not unusual for your lawn to become sparse in some areas and full in others. Different parts of the lawn will respond differently to winter. Therefore, there is need to reseed the lawn where necessary so it grows thick, full and green for the new year.

Reseeding is the answer to this and should be done by your lawn treatment service for best results.

New year lawn care goes a long way to determine how successful your lawn care year is going to be. When done right, your lawn will be off to a good start and have more chances of having fewer challenges during the year.